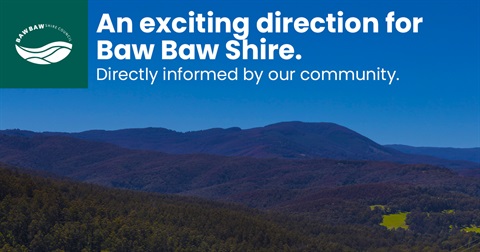 Baw Baw Shire Council has set a clear strategic direction for our region with the adoption of its Annual Budget 2019/20, revised Council Plan 2017 – 2021, Long Term Infrastructure Plan 2019/20 – 2028/29, Long Term Financial Strategy 2019/20 – 2028/29 and Rating Strategy 2019/20 at last night's Council Meeting.
Together, these documents map an exciting direction for Council activities in the coming year – one that is directly in line with community demand.
A record 248 submissions were received on the draft documents, which were finalised with direct consideration to the key themes that emerged during the community consultation process.
The Annual Budget 2019/20 outlines significant investment in Capital Works, laying the foundation for intergenerational projects for the community over the next three years, all while delivering lower rates in the dollar for Baw Baw Shire ratepayers for the third year in a row.
Of a total budgeted operating expenditure of $79.9 million, $29.6 million has been allocated for new Capital Works projects to address key priorities identified by our residents, including:
$11 million for road works:

approximately 40km of roads resealed
100,000 square metres of gravel road resheeting
five roads in poor condition fully reconstructed
funding for upgrade works in Shady Creek and Neerim North
sealing of unsealed section of Shillinglaw Road, Drouin.

$6.7 million building program including:

a new Early Learning Centre for Trafalgar
two female friendly pavilion upgrades at Buln Buln and Hallora Recreation Reserves
renewal works at public toilets and other community facilities.

$3.8 million for recreation and open spaces including:

sports field and hard surface replacement and renewal
replacement of dosing system at Rawson Swimming Pool
placemaking programs in smaller townships
fenced dog parks for Drouin, Warragul and Trafalgar
upgrades to Neerim South Oval
o new sport and playground equipment and open space furniture replacement.

$1.3 million footpaths investment including $0.8 million for new footpath programs and $0.5 million for footpath renewal works.
The revised Council Plan 2017 – 2021 underpins Council's commitment to nurturing our vibrant communities, building a thriving economy, maintaining safe and sustainable environments, and striving for organisational excellence.
Key initiatives in the Council Plan for the coming year include:
the completion and opening of the new Warragul Early Years facility at Warragul Primary School
commence a multi-year design and construction program for extensions to the Drouin Early Years facility and a new Early Years facility at Trafalgar
commence the design of a community hub facility in Drouin
the implementation of Council's Destination Action Plans to enhance tourism in our region
the development of a new Waste Management Strategy
the implementation of Council's Environmental Sustainability Strategy action plan.
continued and passionate advocacy on behalf of community needs
continued focus on improving service planning and review programs to improve the effectiveness and efficiency of Council services.
The Long Term Financial Strategy 2019/20 – 2028/29 demonstrates Council's commitment to financial accountability and sustainability and establishes a financial framework against which Council's strategies, policies and financial performance may be measured.
For a more detailed snapshot of the adopted Annual Budget, Council Plan, Capital Works Program or Rating Strategy, Council has developed a series of handy fact sheets that are available to download below.
Printed copies of the fact sheets are also available at Council's Customer Service Centres.
As noted by Mayor Mikaela Power
"It gives me great pleasure on behalf of my councillor colleagues to announce the adoption of the Shire's budget for 2019/20. In addition to early learning centres for Drouin, Trafalgar and Warragul, this budget provides many new and exciting initiatives, including new community and recreational facilities such as female friendly pavilions in Darnum, Buln Buln and Hallora, fenced dog parks in Drouin, Warragul and Trafalgar and works at the Neerim South Oval. This budget will also enable more than 250,000 square metres of roads to be repaired or resealed.
Council received nearly 250 submissions from community members as part of this process, which reflects the their interest and commitment and the emphasis that this Council has placed on the need to embrace extensive community consultation.
Council listened to what we heard from the community about how they want their funds spent. We have increased funding for street tree plantings and to enable better protection of trees within our urban areas, and we've committed money to projects and services that improve our communities, such as planning for community hubs and leisure facilities."
As noted by Deputy Mayor Danny Goss
"This Council has taken the baton and run with it. This budget sets the scene for what will likely be the biggest infrastructure spend ever by this Shire over the next three years.
I think this budget is fair and responsible; It is forward thinking and meets the demands of our Ratepayers. It sets this Council up for the massive infrastructure spend that is coming as well as maintaining current service levels.
This is a collective budget put together by these Councillors. We didn't all agree on all parts, but we own it together as of tonight. It's ours and we will live by it.
Budgets are always difficult. A dollar spent here means a dollar can't be spent somewhere else. Ratepayers are wanting new Infrastructure as well as services. I think we have achieved that."
/Public Release. View in full
here
.