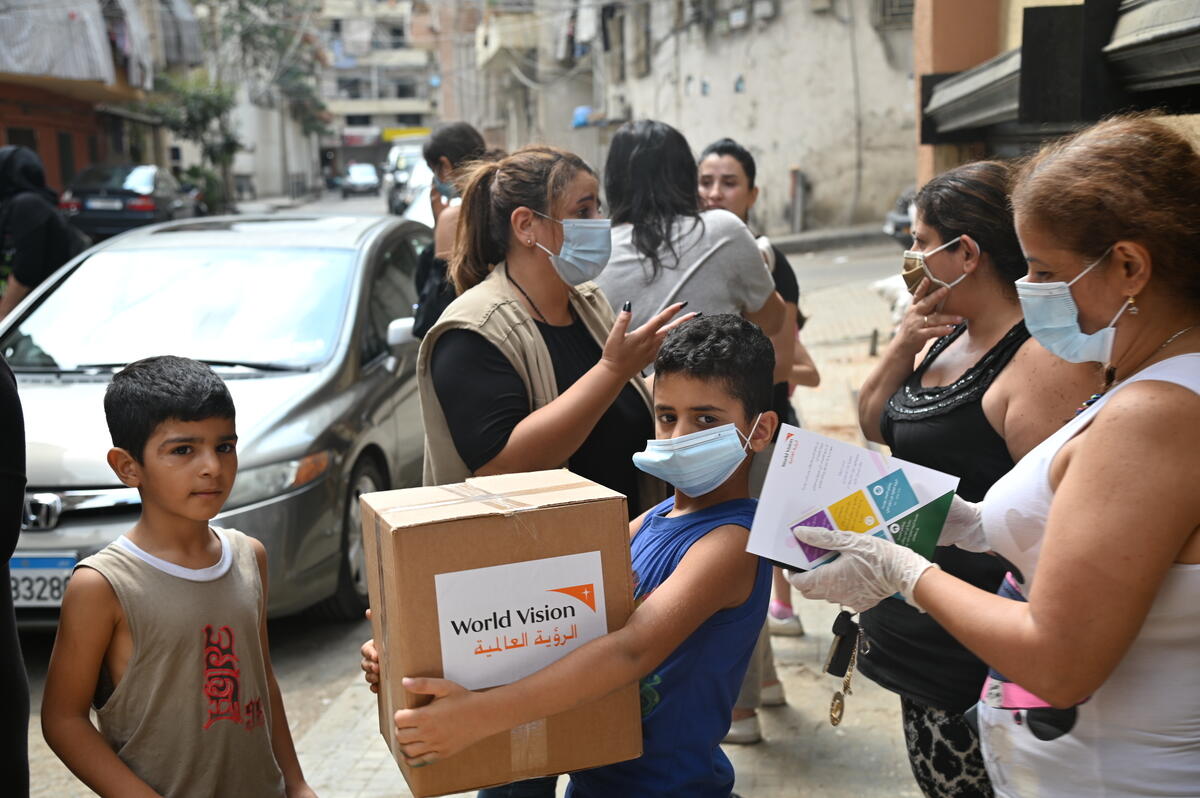 As families grapple with the aftermath of the Beirut explosion and a collapsing economy, children are now even more vulnerable with daily COVID-19 cases in Lebanon hitting new highs.
More than 300,000 people are homeless after the blast ripped through the city last week, killing at least 220 people and injuring more than 6000. Lebanon has since recorded one of its highest COVID-19 tallies on Tuesday, with more than 300 cases registered. Lebanon has so far had more than 7400 cases of COVID-19.
World Vision staff responding in Lebanon warn that with 80,000 children displaced into the crowded homes of relatives, friends and shelters this is a potential driver for new infections. In addition, hospitals are under massive pressure to deal with those injured by the blast and would be unable to cope with a surge in COVID-19 cases.
Personal protective equipment was also lost in the blast and water systems damaged, making it harder for people to stay clean and clear of viral transmission.
"People are on the streets, cleaning up and re-connecting with and supporting loved ones after surviving the blast. Hospitals that were already under pressure dealing with COVID-19 patients are now also inundated with people severely injured by the blast. Understandably, people are doing what needs to be done but the aftermath has created the perfect storm to increase the risk of the virus spreading," said World Vision Lebanon's National Director, Hans Bederski.
"Spiralling COVID-19 cases are the last thing the country needs right now, but, unfortunately, that's the situation we are confronted with."
World Vision is securing PPE and has started providing food, hygiene kits, shelter and psychosocial support to people in some of the neighbourhoods worst affected by the blast.
It will also support efforts to repair homes, to provide vital economic opportunities for locals suffering from the collapse of the economy and damaged homes.
The country is also hosting the world's largest number of refugees per capita due to the decade-long Syrian civil war.
"We are working in an extremely complex situation, and the Beirut blast has only exacerbated the risks for children. Not only are many children struggling to cope with what they have witnessed, but they're also worried about their future and where they'll get their next meal from," said World Vision Lebanon's operations director Rami Shamma.
"That's why we are urgently providing assistance to 120,000 people, to help meet basic needs. This is no easy task, with roads still blocked by rubble, the search for bodies still going and a lot of damaged infrastructure. All while staff are recovering from their own loss and injuries and contending with the threat of COVID-19."
/Public Release. View in full
here
.