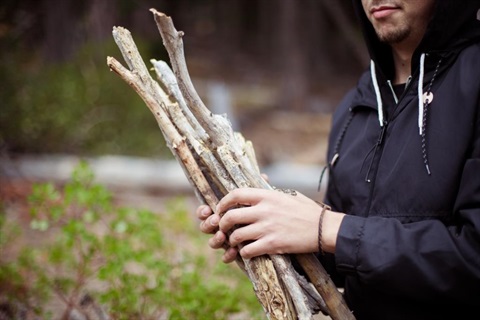 Residents and property owners are being encouraged to reduce excess vegetation ahead of and during summer, to prepare for the fire season.
They are being urged to continue maintaining their property into the warmer months, making the most of November-December's Bundled Branches collection, green waste bins, local waste transfer stations (restrictions permitting) and burning off safely before the Fire Danger Period to reduce fuel loads.
Council's Bundled Branches collection runs through November and December. Community members can place out bundles of branches (each tree limb should be no longer than 1.5m, no wider than 200mm, and each bundle tied with non-plastic string) out for collection in their usual waste collection spot, and they will be picked up on their designated week.
Find out your date for your property's Bundled Branches collection at yarraranges.vic.gov.au/myneighbourhood
One of the most effective things property owners can do is cutting long grass, removing fallen branches, leaves, twigs and bark – a simple, regular clean-up can dramatically reduce the fire risk. It is this material that can help a fire to spread and grow quickly.
As a result of the recent severe storms, there is likely to be a significant amount of fallen trees, on a number of properties. It is important that the branches and foliage be removed, prior to the hotter weather. Heavier tree trunks are much less of a fire risk.
There is also likely to be an abundance of firewood, as a by-product of the storm clean-up.
Firewood is an asset, which needs to be neatly stacked in a cleared area, away from structures.
Fire season preparedness isn't just about doing one clean-up – being fire ready means being proactive and regularly clearing or tidying up vegetation before it starts to get out of control.
It's important to have your property fire-ready by the time the CFA announces the Fire Danger Period – which will mean burning off can no longer occur anywhere in Yarra Ranges.
This year's Fire Danger Period hasn't been announced yet, but don't leave your preparation until it's too late.
/Public Release. View in full
here
.