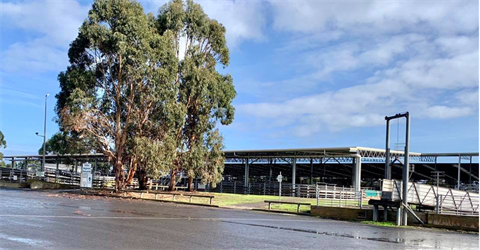 Colac Regional Saleyards will trial online sales this week at the November Store Cattle Sale for the first time, providing an opportunity for greater competition and top prices for quality, locally-grown stock.
Saleyards Manager Miles Hazel, who is looking at a range of new initiatives to benefit buyers and sellers at the saleyards, has thanked local stock agents for their support of the Stocklive auction trial.
"Our four local agents Charles Stewart & Co, Charles Stewart Dove, H.F Richardson Livestock and Nutrien Livestock, are all on board for our Stocklive auction trials planned for the next two Store Cattle Sales on 6 November and 4 December, and the Weaner Sale in January," Mr Hazel said.
"It's an exciting step for our saleyards, Colac Otway Shire and the industry, particularly for producers who will be selling to buyers across Australia and really showcasing the stock being bred locally.
"And from a buyer's perspective, to have access to the quality cattle we have on offer will create significant interest – it's a win-win.
"We have chosen StockLive, which is a 100% Australian-owned auction and livestreaming platform which connects our saleyards with buyers from across Australia via their computers or phones.
"StockLive works in conjunction with our local agents and they will have a representative at the yards on sale day.
"Stocklive creates an online catalogue and Information regarding weight, age, bloodlines and other additional information will be available for each pen of cattle with live video and audio.
Buyers can register to bid at these sales by going online at www.stocklive.com.au and clicking on the Colac Store Sale.
"It's an easy process for buyers and sellers, with plenty of information online, or they can contact the saleyards or their agent for assistance.
"A StockLive clerk will video the sale live for people to watch, listen and purchase online and auctioneers wear a small microphone to ensure the audio is clear.
"This offers buyers the opportunity to see what is happening on the rail, from their own office, paddock or wherever they are located.
When an online bid comes in, the StockLive clerk will call out 'online' and it is at the agent's discretion if they take the bid or take a floor bid.
"The clerk will inform the online bidder if the agent has gone with the floor first and encourage them to bid again. StockLive also maintains a record of all bids and sends the information to those responsible for checking off the sale once it's completed," Mr Hazel said.
"We are looking forward to trialling the system at our next two store cattle sales and our Weaner Sale, which is the biggest sale for the year at Colac Regional Saleyards.
"I encourage buyers, sellers and anyone interested in our local industry to learn more about the online auction process as their feedback on our trials will be important for the future success of our local sales."
/Public Release. View in full
here
.