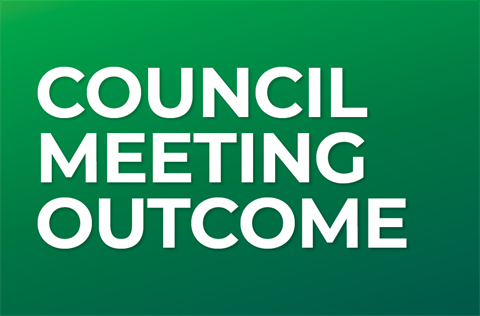 At this week's Ordinary Council Meeting (28/06) the 2022-23 Annual Budget and an update to the 2021-2025 Rating and Revenue Plan were adopted.
The proposed 2022-23 Budget was adopted by Council on 26 April 2022, with the feedback period closing on 20 May 2022. Council presented one online session which had 684 views, and one in person session (no attendees). A total of nine submissions were received.
The 2022/23 Council Budget includes a Capital Works budget in excess of $18 million (including more than $10 million in grant funding), a rate rise of 1.75% in line with the Victorian Government determined rate cap and a 5.5% increase to waste charges to meet the increasing costs of managing waste.
Central Goldfields Shire Mayor Cr Chris Meddows-Taylor said this was an exciting Budget with a number of major projects to be delivered as part of the Capital Works Program.
"Advocating and lobbying for funding is a major responsibility of Council and it is incredible to see we have been successful in attracting over $10 million in grant funding.
"Thank you to everyone who took the time to read the Proposed Budget and provide input."
Property valuations across the shire increased by 39% overall, increasing from $2.55b to $3.55b year on year, with the number of properties also increasing by 62 properties. Most of the increase was in the Vacant Land category due to subdivisions.
This has resulted in the need to amend the Rating and Revenue Plan as there are considerations that arise from the increase in valuations:
Avoiding rate shock of an increase greater than 10% to any differential category,
Keeping Vacant Land at a greater rate than Residential Rating Category to encourage development of vacant land.
Council resolved to retain the Vacant Land differential at 150%.
"While the rate increase appears high for Vacant Land, the impact on the average property is not. This is due to the increase in the number of properties in this classification due to subdivisions," Mayor Cr Chris Meddows-Taylor said.
Budget highlights:
Upgrades to the Maryborough Outdoor Pool $1.8 Million (carry forward from 2021/22 year)
Completion of the Central Goldfields Art Gallery redevelopment $800k (works underway)
Construction of the Skate Park in Maryborough $538k (carry forward from 2021/22 year)
Completion of the Carisbrook Recreation Reserve $2.3 million (works underway)
Goldfields Reservoir Dam Stabilisation $700k
Carisbrook Levee Stage 4 $1.22m
Road renewal and reseals projects $3.3 million
Carisbrook Transfer Station upgrades $300k
Maryborough Town Hall upgrade works $220k
Other key projects to be undertaken in 2022/23 include:
Review of heritage controls in Maryborough
Next stage in the activation of the Maryborough Railway Station
Irrigation works at Phillips Gardens
Delivery of the Talbot Futures project
Grant funded projects that will continue in 2022/23 include:
Go Goldfields
TAC driving program
Engage Youth program
Freeza program L2P program
To view the Budget, visit: www.centralgoldfields.vic.gov.au/Council/Policies-Plans-Strategies-and-Documents/Council-Documents
/Public Release. View in full
here
.