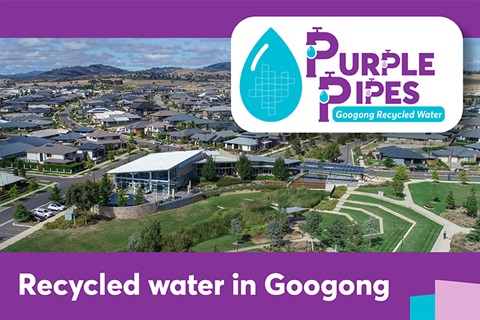 Queanbeyan-Palerang Regional Council, and the community of Googong, had great cause for celebration today with the confirmation that after many years of development and fine tuning, recycled water will soon begin flowing through the township's 'purple pipe' network.
Mayor of Queanbeyan-Palerang Regional Council, Cr Tim Overall announced that the valves that provide recycled water for Googong would be opened from 1 December 2020.
"The so-called 'purple pipe' network and water treatment plant, developed in partnership with Googong Township developers PEET, will help to drought-proof Googong by providing recycled water for public green spaces, residential lawns and gardens, and flushing of toilets.
"The availability of recycled water for non-potable uses will help to reduce consumption of potable drinking water in Googong to about 60% of a similar sized population that doesn't have recycled water," Mayor Overall said.
From 1 December 2020 all water provided though the 'purple pipe' network should be treated as recycled water. The recycled water complies with the Australian Guidelines for Water Recycling.
"The water is treated to a very high standard and as advised by NSW Health Public Health Unit, there is a low risk of any negative health effects from approved uses," the Mayor said.
Over the coming weeks Council staff will be distributing a range of educational material to inform Googonians about what you can and can't use recycled water for. A booklet titled "A guide to everything you need to know about recycled water in Googong" will be mailed to every household.
Drop-in information sessions allowing residents to ask questions will be held on Thursday 5 November (pop-up stand outside IGA from 4-7pm) and Saturday 14 November (at the Googong Community Centre from 9am-12pm). Covid safe restrictions will apply.
Googong township, south of Queanbeyan, was master planned to increase water resilience and reduce potable water consumption. The Googong Water Recycling Plant has been operating since 2015. Since that time Council has been working to obtain relevant approvals to begin supplying recycled water. The NSW Department of Planning, Industry & Environment – Lands & Water granted that approval in late May 2020, allowing Council to finalise management plans and plan for community education and engagement.
Recycled water provided through purple pipes will be available for: flushing toilets; watering lawns and gardens; washing cars, brickworks and windows; watering fruit and vegetable gardens (with a recommendation to wash with potable water prior to eating); watering sportsfields and parks; as well as for fighting fires.
A comprehensive web page, including a range of fact sheets, is available at: www.qprc.nsw.gov.au/GoogongRecycledWater
/Public Release. View in full
here
.