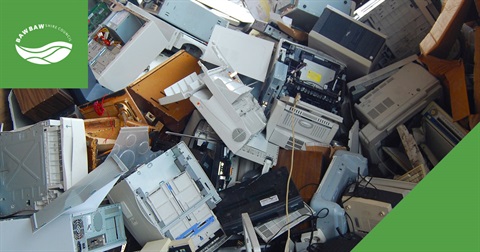 Baw Baw Shire Council is encouraging the community to prepare for the upcoming E-Waste Ban which comes into effect on 1 July 2019.
From 1 July, Electronic Waste (or E-Waste), which is any item with a plug, cord or battery, will no longer be accepted in any kerbside bins.
E-waste can include televisions, computers, mobile phones, kitchen appliances, tools, electric toys and batteries. For some appliances, up to 90 per cent of their content can be recycled.
Baw Baw Shire residents can soon drop off their e-waste free of charge at any of the four Council operated transfer stations in Erica, Neerim South, Trafalgar and Lardner. Visit Tip Information for location and opening hours.
Smaller e-waste items including batteries, mobile phones, printer cartridges and electronic accessories will also be accepted at the Drouin and Warragul Customer Service Centres from 1 July.
From 1 August small to medium sized items can be taken to Solo Resource Recovery's Depot in Warragul from Monday to Friday 9.00am-4.00pm.
The e-waste ban is being led by the Victorian Government to protect the environment and recover more precious resources like copper, silver and gold that can be reused. It will also help reduce the environmental damage caused by the disposal of old electronic items into landfill sites.
Currently, over 1 million mobile phones and 1.5 million TVs are discarded in Australia every year. It is estimated that for televisions and computers alone, the amount of e-waste generated in Australia will grow from around 138,000 tonnes in 2012-13 to 223,000 tonnes in 2023-24. This is an increase of more than 60 per cent.
/Public Release. View in full
here
.