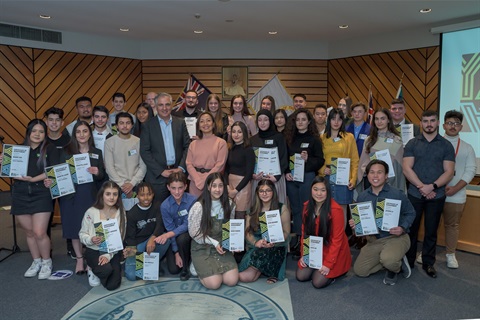 A volunteer from St Johns Ambulance who assisted with COVID-19 testing clinics, an entrepreneur living with Autism Spectrum Disorder, and a student who overcame great personal challenges to develop photography skills and educate children are among the winners of the 2021 Fairfield City Mayor's Youth Achievement Awards.
Held by Fairfield City Council, the awards recognise young individuals and groups who have excelled in the sports, arts, business, humanitarian, and community activism arenas.
The winners were announced at a presentation last night by Fairfield City Mayor Frank Carbone. He said it was refreshing to hear how the City's young people were inspiring community pride, and strengthening community life in Fairfield City.
"The awards are an opportunity to recognise young go-getters with success stories in areas like business, sportsmanship, volunteering, mentoring and personal growth," Mayor Carbone said.
"By volunteering and leading significant projects in our community, young people are not only making a positive contribution, they are building essential skills and attributes for life.
"Our young people are tomorrow's leaders and innovators. It's important we shine the light on their achievements during these challenging times to encourage them and show them that we are behind them."
The winners for each award category are as follows:
Dana Williams – Calm In Crisis Award
Dana is a St Johns Ambulance volunteer who has volunteered her time to assist with testing clinics at the peak of the COVID pandemic. During this time, she was also involved in bushfire and flood relief response.
Sam Matty – Community Spirit Award
Sam is a prolific volunteer across multiple fields including sport, youth work and creative arts. He is involved as a peer mentor with several organisations such as STARTTS, CORE Community Services and serves on Council's YAC.
Teona Petreska – Creating Change Award
Teona has served as a role model for her peers at the Cabramatta Intensive English Centre (IEC) and has worked alongside staff as an ambassador for IEC students by advocating for ways school staff can better build inclusivity with students.
Imi Mbedla – Creative Arts Award
Imi is an accomplished dancer that achieved success from 2019 to 2021 in local and international competitions, commercials, music videos and shows.
Jordyn Willer – Entrepreneurial Talent Award
Jordyn is a year 12 student living with Autism Spectrum Disorder. He was inspired through a candle making class to create his own business called Bro Wicks. He continued to learn how to make candles by hand from the internet and eventually set up an eBay page for his business.
Soane Fatai – Leadership Award
Soane is a peer leader at Fairfield High School and in the wider community. He has been involved in the Christmas Trolley Drive, the West Tigers Varying Abilities program (working with the support unit), Harmony Day with Fairfield Public School and fundraising for Birthing Kits Australia. He shows outstanding leadership qualities, particularly when providing orientation for younger students.
Renet Odeesho – New Beginnings Award
Since arriving to Australia in 2019, Renet has achieved exceptional results across her subjects despite three years of interrupted schooling when fleeing Iraq via Lebanon. She is also involved in activities outside of school in the areas of leadership, sports coaching and art. She plans to study psychology after school.
The Daily Specials – Outstanding Youth Group Award
The Daily Specials were the winners of the 2020 Game Changer Challenge run across high schools in NSW. The team from Bossley Park High School worked on the idea of a 'Community Garden and Interactive Screen' helping people from diverse backgrounds (including non-English speaking and First Nations) feel connected, create new friendships and share their culture through food.
Karlo Yalda – Phoenix Award
Karlo arrived in Australia in 2017 and was studying and working as a painter up until he was in a car accident which left him with a brain injury. He turned to photography and now uses his skills to educate children; his passion has led him to create an e-book for children about different types of birds.
Ali Abboudi – Sportsmanship Award
Ali has been playing football since the age of five and has been approached by many elite soccer teams including some of the biggest academies in Sydney. He was the captain for his Fairfield High School soccer program and took initiative to seek $2,000 worth of scholarships which boosted the program and encouraged all students to give their all.
/Public Release. View in full
here
.