Up to $600,000 is being offered by the Marshall Liberal Government for information that could lead to the conviction of those responsible for the alleged murders of Robert Atkins, Trevor King and Jeff Mundy. The rewards are up to $200,000 for each investigation for information that leads to a conviction of those involved in the alleged murders and in the case of Jeff Mundy and Robert Atkins, the recovery of their bodies.
These unsolved murders are being investigated by SAPOL as part of the recently formed Task Force Southern made up of 42 personnel including investigators and intelligence officers led by SAPOL's Major Crime Investigation Branch.
Task Force Southern is investigating these murders in particular where the victims and the alleged suspects, are all believed to have been associated with the local methamphetamine and criminal scene across the southern suburbs of Adelaide. Task Force Southern is currently examining the role of up to 15 people in these three alleged murders.
Minister for Police, Vincent Tarzia, is hopeful the financial incentives will provide SAPOL with information to solve the murders.
"SAPOL's incredible work to solve cold cases is unparalleled and Major Crime's record in this area speaks for itself," Minister Tarzia said.
"To further support SAPOL the Marshall Liberal Government is delivering, once again, crucial funding to strengthen Task Force Southern and increase its chances of solving these callous crimes.
"We hope this financial incentive paves the way towards closure for the families of these victims who deserve answers and a resolution.
"Any information – no matter how small – could be the break investigators need. Please contact Crime Stoppers South Australia on 1800 333 000 now if you have a tip."
Additional rewards will be sought if further murders are identified and the information provided leads to a conviction or the recovery of the bodies of Robert Atkins or Jeff Mundy.
Detective Superintendent Des Bray said: "Task Force Southern is one of the largest task forces of its type assembled by SAPOL using a handpicked team of experienced detectives, intelligence officers and forensic scientists."
"It is alleged the men have all been murdered by low level drug dealers and petty criminals, who get together with others to bully, threaten and stand over others," Mr Bray said.
Task Force Southern detectives have received cooperation from many people, including 33 calls to Crime Stoppers providing information to assist the investigations
Task Force Southern will be actively promoting rewards during the investigation within the community, particularly within the criminal community in the southern suburbs. These financial rewards may be the motivation required for someone to assist in re-starting their lives away from crime.
If anyone has information about the murders of Robert Atkins, Trevor King or Jeff Mundy, they are asked to please call Crime Stoppers on 1800 333 000 or online at www.crimestopperssa.com.au. Detectives from Task Force Southern will be available between 6:00pm-9:00pm tonight to take phone calls.
Anyone who is fearful about providing information or concerned for their safety should contact Crime Stoppers and ask to speak to a Task Force Southern Detective.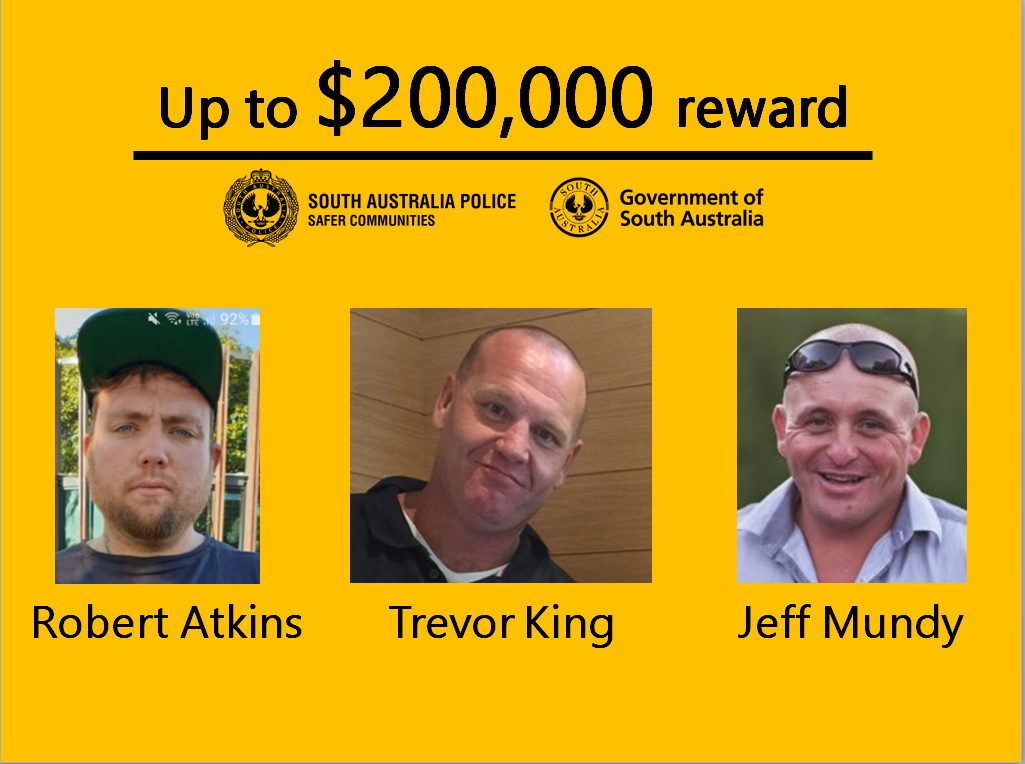 /Public Release. View in full
here
.