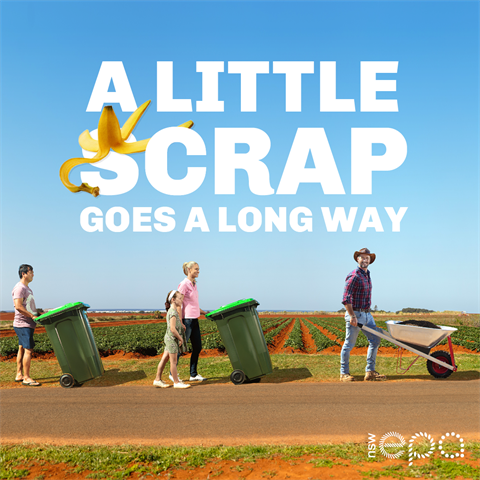 An awareness campaign aimed at reducing contamination in the Goulburn Mulwaree community's organic waste collections will roll out on Monday, encouraging residents to Scrap Together.
Goulburn Mulwaree Council, along with four other NSW Councils in the Canberra Region Joint Organisation (CRJO) received an NSW Environment Protection Authority (EPA) grant of $50,000 to participate in a community education program to help residents get the best out of the Food Organics and Garden Organics (FOGO) kerbside collection service.
The FOGO service allows food scraps to be added to the green lid organics bin, so it can be professionally recycled into compost.
The Scrap Together campaign was first piloted in Forbes, Clarence Valley and Kempsey Councils, resulting in an average of 10 per cent increase in food waste recovered for recycling. This sees food and garden organics kept out of landfill, and instead processed into compost that will improve soil health.
Head of EPA Organics Unit Amanda Kane said this funding round enabled 25 councils to deliver the Scrap Together campaign materials, which includes videos, radio adverts, mailbox drops and print advertising.
She said the NSW Government had allocated an additional $69 million over the next five years to further expand FOGO services and support councils to meet new requirements under the Government's Waste and Sustainable Materials Strategy 2041 to provide services to all NSW households by 2030.
Goulburn Mulwaree Mayor Cr Peter Walker said the Council would be undertaking the awareness campaign to spread the Scrap Together message over the coming 20 weeks.
"Between January and June this year, Council collected more than 1,795 tonnes of food and garden organics from households," Cr Walker said.
"This not only shows how popular our organic waste collection has been with residents, but it also shows a changing mindset in the community about the importance of recycling organics.
"But we can always reduce the contamination levels with our organic waste. Sometimes, people may be inadvertently putting the wrong thing in the green lid bin, because they're unaware that it shouldn't go in there.
"This campaign will improve the community's knowledge and awareness of Council's FOGO program, and in turn improve the quality of the compost we generate from the collected organics."
/Public Release. View in full
here
.