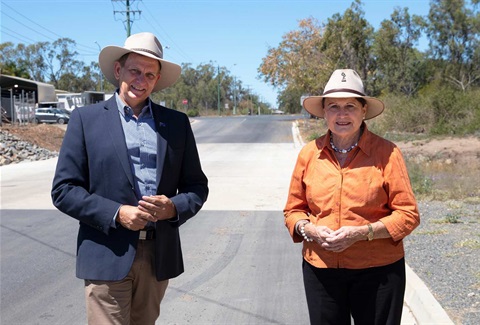 Road users may have noticed that Macquarie Street, in Gracemere's Industrial Area, has had a makeover thanks to over half a million dollars from the Australian Government.
The most recent upgrades to the Gracemere Industrial Area (GIA) were wrapped up in May and have added Macquarie Street, between Douglas Street and Middle Road to the list of areas improved through the project designed to enhance access to the area.
The works included road improvements and the upgrade of the pre-existing floodway to accommodate higher productivity vehicles.
Deputy Prime Minister and Minister for Infrastructure, Transport and Regional Development Barnaby Joyce said the works are the third and final stage of the major upgrade project, achieved through the Australian Government's Bridges Renewal Program and Rockhampton Regional Council.
"This project is a great example of what the Federal Liberal and Nationals Government's Bridges Renewal investment is all about – upgrading and replacing bridges to connect communities and reduce freight costs for businesses," the Deputy Prime Minister said.
"That's why we're putting over $760 million over a decade toward this program, with an ongoing commitment of at least $85 million a year from 2025 onwards."
Rockhampton Region Mayor Tony Williams said the Macquarie Street project was a great example of what can be achieved when two levels of government work together to benefit the region.
"The upgrades to Macquarie Street were made possible thanks to a $585,377 investment from the Australian Government's Round 5 of the Bridges Renewal Program," Mayor Williams said.
"This particular project means improved access to the GIA B-Double Route and wider State Highway Network which means heavy vehicles can now move through the area much easier.
"The GIA is one of Queensland's premier transport and logistics hubs, and it brings numerous benefits to the region."
Infrastructure and Divisional Councillor Ellen Smith said road users have had nothing but positive feedback since the upgrades were completed.
"The improvements to the GIA mean increased safety for road users, more jobs, more growth, and ensuring key freight routes are more efficient which saves businesses time and money," Cr Smith said.
"Thanks to the upgrades we will see higher returns and bigger investments in our region which is a win for our community."
The Macquarie Street upgrade project was jointly funded by the Australian Government Round 5 of the Bridge Renewal Program and Rockhampton Regional Council.
/Public Release. View in full
here
.