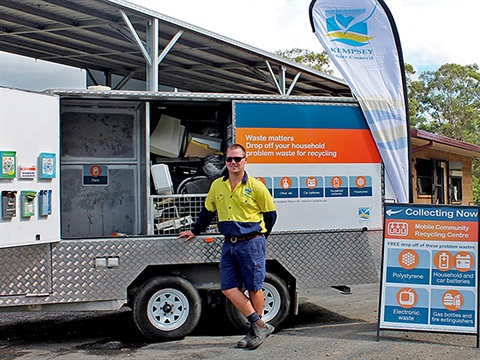 The timetable for the Mobile Community Recycling Centre Trailer has been refreshed after six years.
Kempsey Shire Council built the first mobile recycling centre in the state in 2015 to enable problem wastes to be collected from a variety of new collection points.
After six years of excellent service, the usage data has been used to revamp the timetable.
This will mean that locations with the highest and most consistent visitation rates, such as South West Rocks, have been scheduled on a more regular basis.
Visits will be made less frequently to locations that have historically proven to have lower visitation rates. We regret that Collombatti has been removed from the schedule as it was not being used at all at this location.
The new timetable came into effect on Monday 23 August but the service was then put on hold due to COVID restrictions
View the Mobile Community Recycling Centre Calendar
The Community Recycling Centre is still open 7 days a week at the Waste Management Centre on Crescent Head Road.
/Public Release. View in full
here
.