The $3.3 million Bruce Scott Pavilion at Tomaree Sports Complex has been officially opened, marking a new chapter for sport in Port Stephens.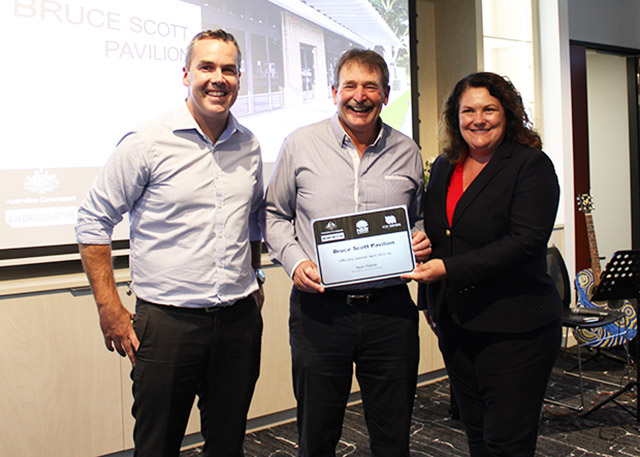 Pictured: Mayor Ryan Palmer, Bruce Scott and Meryl Swanson MP
---
Port Stephens Mayor Ryan Palmer joined Meryl Swanson MP and fellow Councillors to officially open the newly built facility alongside its namesake, Tomaree Sports Council President Bruce Scott.
"The new Bruce Scott Pavilion is a game changer for our region and a wonderful example of local sporting clubs and our Council working together," Mayor Palmer said.
"This project wouldn't have been possible without the strategic vision and teamwork of the Tomaree Sports Council and Bruce's contribution and commitment to sport over the last 30 years, which has been inspirational. We're proud to name this incredible facility in his honour."
The new multipurpose pavilion features change rooms, storage rooms, a canteen, a multipurpose room for training and events, a meeting room for sporting clubs and youth services, a first aid room, referee's rooms and accessible amenities.
As well as providing amenities for the 2000 registered players who use the complex for cricket, touch football, soccer and AFL, the modern centre will help to attract more events and visitors to Port Stephens that will benefit both the wider community and local businesses.
Bruce Scott said he was honoured to have the building carry his name.
"As a sports administrator, we get our reward and joy out of seeing junior and senior players using our amazing facilities," Mr Scott said.
"Tomaree Sports Council has worked with Port Stephens Council for over 10 years to replace the old amenities building to accommodate the growth in local sport, especially in women's sport.
"The new pavilion is the icing on the cake. It's a win for our community, benefiting sporting clubs and offering a state of the art function room capable of accommodating 120 people for training sessions, presentations and workshops."
The project was funded by the Australian Government's Local Roads and Community Infrastructure Program and the NSW Government's Stronger Country Communities Fund, ClubGrants Infrastructure Grants, NSW ICC World T20 2020 Cricket Legacy Fund and Regional Sport Facility Fund.
Contributions were also made by Port Stephens Council, Tomaree Sports Council, Nelson Bay Football Club and Nelson Bay Touch Association.
Parliamentary Secretary for the Hunter Taylor Martin said the NSW Government was supporting this project to ensure modern and functional amenities at Tomaree Sports Complex.
"Not only will the new amenities benefit over 2,000 registered players across a variety of sports; they will also help attract new visitors and activities to Tomaree Sports Complex," Mr Martin said.
"State-of-the-art facilities like these provide a real boost in encouraging more people to get involved in the local community whether it be through playing sport or taking part in social events."
Deputy Premier and Minister for Regional NSW Paul Toole said the Stronger Country Communities Fund is helping to enrich the lives of residents in regional communities.
"The Stronger Country Communities Fund is already making a real difference to regional communities, with work on more than 2,000 projects already underway in every local government area across the state," Mr Toole said.
"The NSW Government is investing record amounts to deliver the infrastructure needed to stimulate regional economies but we're also backing grassroots projects that make a positive difference to everyday life."
Minister for Sport Stuart Ayres said the NSW Government is committed to improving the quality and quantity of sports venues across NSW.
"Well-developed sporting facilities are an integral part of our community that help connect people and promote healthy lifestyles," Mr Ayres said.
"It's important that communities have inclusive, fit-for-purpose facilities to enable participation in sport at all levels, so that even more people can get involved in sport and recreation."
Council's Community Assets Coordinator Paul Burton said the Bruce Scott Pavilion marks the first step in a much bigger plan for the sporting precinct.
"We released our Master Plan for the Tomaree Sports Complex site in 2018 and this project was identified as the key infrastructure priority," Mr Burton said.
"The next phase involves revitalising the Elizabeth Waring building into a high-quality sporting and community space thanks to NSW Government Government's Regional Sport Facility Fund.
"These works will also include new pathways, seating and signage, encouraging community events, meeting and training programs to be delivered from this modern function area that overlooks the John Nell Match Field."
Breakdown of funding contributions:
NSW Government

Stronger Country Communities Fund: $502,618
NSW Government's ClubGrants Infrastructure Grants: $300,000
NSW ICC World T20 2020 Cricket Legacy Fund: $100,000
Regional Sport Facility Fund: $262,127

Australian Government

Local Roads and Community Infrastructure: $300,000

Tomaree Sports Council: $100,000
Nelson Bay Touch Association: $80,000
Nelson Bay Football Club: $80,000
To view the Tomaree Sports Complex Master Plan, visit portstephens.nsw.gov.au/open-space-and-rec-planning
/Public Release. View in full
here
.