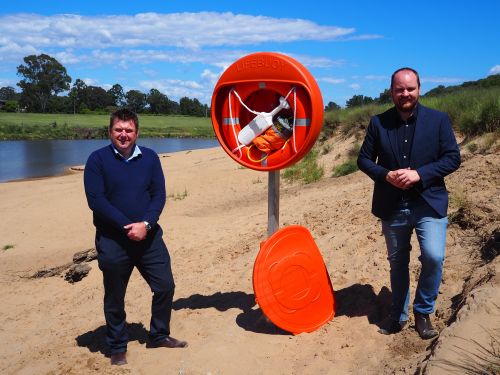 New water safety devices have been installed on the shores of the Hawkesbury River at Macquarie Park just in time for the swimming season.
Macquarie Park's Windsor Beach is a popular destination for locals and visitors looking to enjoy the water during warmer months.
Council has partnered with Royal Life Saving NSW to install two water safety devices for the public to use in the event of a member of the public finding themselves in distress in the water. One has been installed near the canoe launching area and one further upstream at the beach.
Hawkesbury City Council is only the second Council in NSW to install the devices along its river.
According to Royal Life Saving NSW, 99 people lost their lives to drowning in Australia in the last 12 months – 40 of those were in rivers, lakes and dams.
Hawkesbury City Mayor Patrick Conolly said it was important to enjoy the Hawkesbury River safely.
"The community asked for safety devices to be installed near Windsor Beach, and Council has listened. I'd like to thank everyone who approached me personally to raise this important issue," Mayor Conolly said.
"Council is pleased to do what we can to help support people enjoying our river safely, and we are proud to be able to partner with Royal Life Saving NSW on this project.
"However, it is important that as the weather warms up that we all enjoy the river in a safe and responsible way. Safety devices are important but they are not a replacement for good sense and proper supervision."
Royal Life Saving NSW CEO Michael Ilinsky thanked Hawkesbury City Council for its commitment to water safety.
"As we re-engage with our waterways, Royal Life Saving understands the importance of working with our key partners and networks to ensure our communities are aware of aquatic risks and adhering to responsible behaviours," Mr Ilinsky said.
"Hawkesbury City Council has been a strong advocate for water safety and worked alongside Royal Life Saving to support critical initiatives. Royal Life Saving congratulates the Council for this commitment and dedication to community safety.
"Rivers and lakes continue to be a leading location for drowning. Rapidly changing conditions and hidden dangers, such as strong currents, submerged objects, slippery or crumbling banks and cold water, can lead to people getting into difficulty.
"The provision of public rescue equipment is an elevated commitment to support safe aquatic participation. Royal Life Saving seeks to support safe aquatic participation along our major rivers."
/Public Release. View in full
here
.