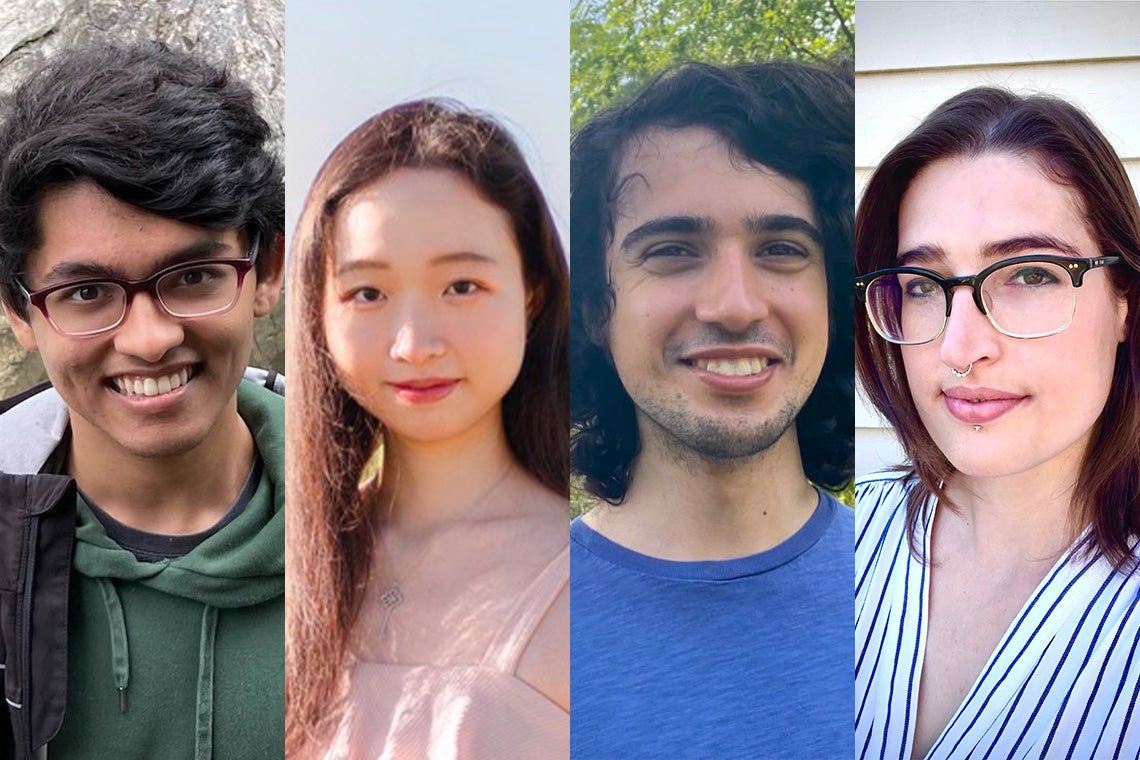 Before they embark on a new chapter in their lives after convocation, four of U of T's latest computer science graduates shared their thoughts on who or what influenced them the most in university.
Some discuss their faculty mentors, giving shout-outs to the likes of Dan Heap and Ishtiaque Ahmed, while others describe the courses that changed the way they think about computer science and the world.
---
Computer science specialist
University College
Kali thought he wouldn't study anything math-related again after high school, but Assitant Professor Dan Heap's introductory computer science class helped change his mind.
"I've been quite fortunate to get to know a handful of professors who have been deeply supportive both in and out of academics. I was also lucky to build friendships of great depth, and meet people who seriously influenced the way I think about myself and society. It's hard to point to any one person or event that single-handledly shaped my education, though – much more the sum."
Computer science specialist and statistics major
Victoria College
Li chose to major in computer science because she wanted to "create helpful tools myself and make a positive, real-world impact."
"[Assistant[ Professor Ishtiaque Ahmed helped me find my research interests, supervised my research and directed me to a clearer academic path. I met Professor Ishtiaque through a research scholarship application at the end of my second year. Since then, I have worked with Professor Ishtiaque and his PhD student at the DGP Lab. Under his mentorship, I realized my passion for using technology to tackle social challenges, gained the complete research experience, and decided to pursue graduate studies in the area of human-centered technologies."
Computer science specialist
Victoria College
Lette, who has a previous degree in philosophy, initially didn't consider herself a "computer person." But as she learned more programming, she became more and more interested in computer science. "Curiosity is a powerful motivator," she says.
"I am very grateful for all the computer science faculty members who were able to convince me that you can learn how to learn, you can learn how to study, you can learn how to take tests, you can learn how to communicate effectively – soft skills are skills, not ingrained personality traits. These lessons carried me through my degree and gave me the confidence to take on a lot of really rewarding challenges."
Computer science specialist
University College
With Toronto being a major tech centre, Akhundov thought it was logical to study computer science at U of T. After interning at Okta Toronto last summer, he recently got a job there as a software engineer.
"I found the first couple of theoretical computer science courses were very important. I already knew how to code before coming to university, but the theoretical side of [computer science] was entirely new to me. The courses really taught me how to think differently, and how to communicate my reasoning in a very logical, precise and clear way. I think it is great that you get to take these courses very early on at U of T – this is not the case at all schools, unfortunately."
/Public Release. View in full
here
.