It will take another 286 years to close the global gender gap. Almost 1 in 3 women have experienced physical or sexual violence at least once in their lifetime. Eighty-five per cent of Fortune 500 CEOs are men.
Shining a spotlight on these issues, UN Women will be at Davos 2023, this year's annual meeting of the World Economic Forum, taking place from 16 to 20 January. Under the meeting's theme of "Cooperation in a Fragmented World", UN Women will spearhead solutions-focused conversations that advance gender equality during the week with leaders from across governments, businesses and civil society organizations.
Through in-person engagements, social media highlights and visible on-site messaging, action for gender equality will take center stage this year. Will you join us?
Advancing Gender Equality: UN Women at Davos 2023
Page navigation PROGRAMME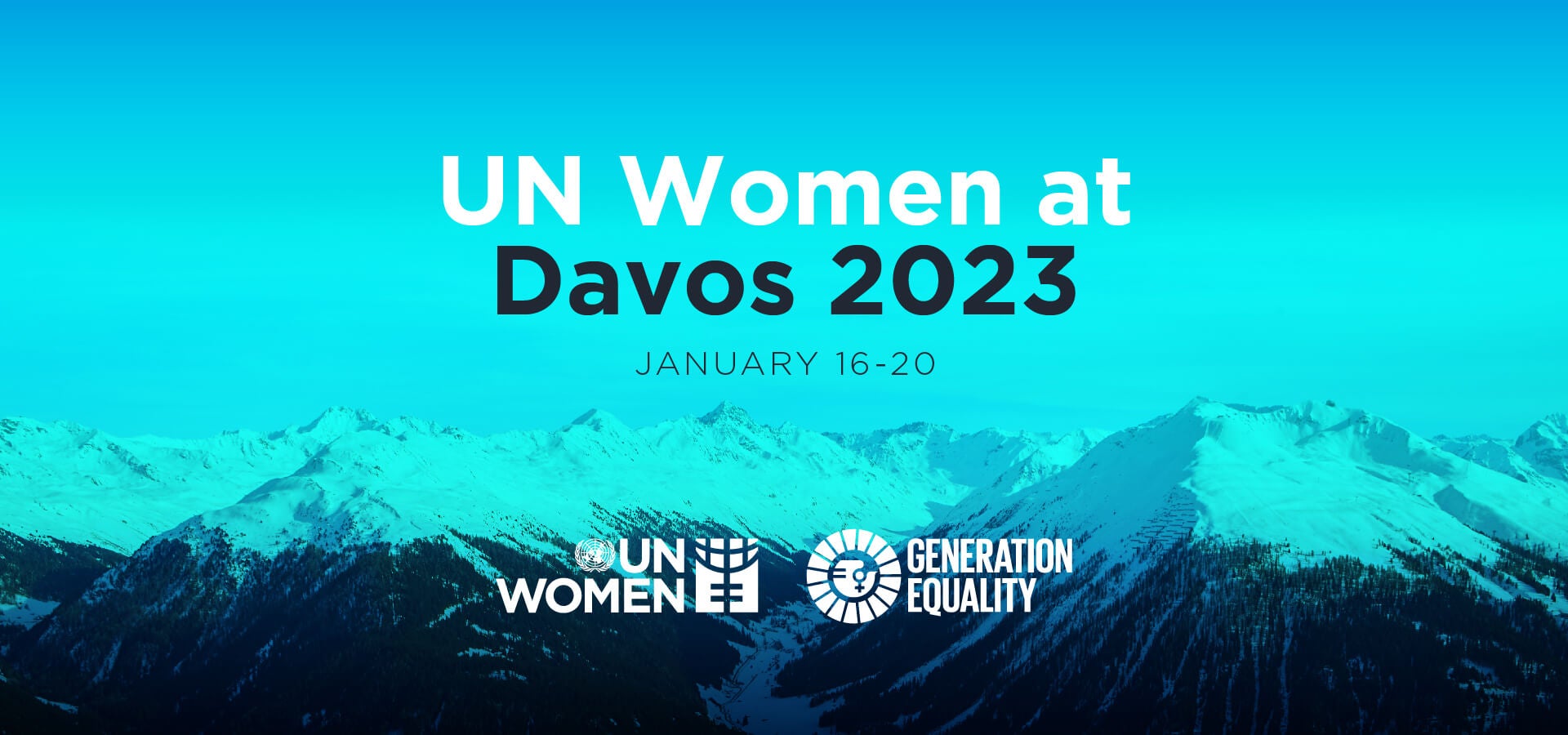 Programme
Be a part of the conversation and tune into UN Women's daily events online with global speakers, advocates and many more:
Monday 16 January
Climate and Gender: A Connected Crisis
Join UN Women's Deputy Executive Director Anita Bhatia and HCLTech Chairperson Roshni Nadar for a fireside chat on how gender equality and the climate crisis are deeply connected.
Tuesday 17 January
Activating Technology and Innovation for Gender Equality
In partnership with HCLTech, this high-level panel will revisit the gendered impacts of innovation and technology, and bring together high-level government representatives, experts and business leaders in conversation on solutions.
4:30 PM CET | Securing Economic Justice for Women
In partnership with DP World, this high-level panel will focus on best practices to improve representation of women in leadership – including through building gender-responsive supply chains – in a world subjected to economic crises, inflationary pressures on commodity markets and a global recession.
Watch here [Pending DP World livestream link]
5:30 PM CET | HeForShe: The Importance of Male Allyship
In partnership with DP World, this unique event at Davos will bring together leaders and advocates for the official launch of the HeForShe Impact Report, which highlights progress on tried and tested methods to address global gender inequalities alongside stories that show the impact these methods have on women's lives.
Watch here [Pending DP World livestream link]
Wednesday 18 January
Eliminating Gender-Based Violence through Multi-stakeholder Action
In partnership with HCLTech, this high-level panel will focus on best practices and measures to address violence against women, including online violence and the risk factors brought on by our increasingly digitalized world. Join us to devise concrete next steps toward eliminating new and persisting forms of violence against women through accelerated multi-stakeholder action.
Davos Dialogues | UN Women @ Davos 2023
Join us for daily check-ins and stay up to date on the conversations taking place each day in Davos with Davos Dialogues: Gender Equality in View. Hosted by Richard Lui, Journalist for NBC News/MSNBC, and Aldijana Sisic, Chief of Multistakeholder Partnerships and Advisory Services, UN Women, and featuring daily special guests.
Tuesday 17 January 6:00pm EST
Wednesday 18 January 6:00pm EST
Thursday 19 January 6:00pm EST
Note that events listed here are subject to change. Please continue to check UN Women social media for the latest updates.
/Public Release. View in full
here
.