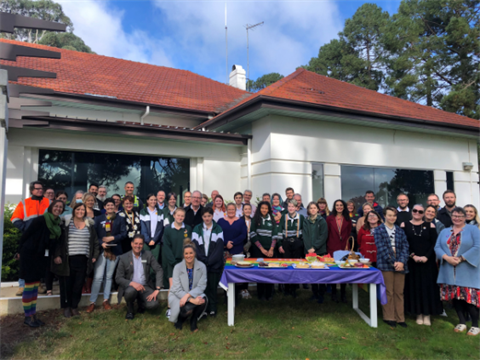 Indigo Shire Council has once again thrown its support behind IDAHOBIT (International Day Against Homophobia, Biphobia, Intersexism and Transphobia), with a moving ceremony on Tuesday.
The ceremony at Council's Beechworth office included a performance by local youth performer Mieke Bosland, speeches from members of the Rutherglen Rainbow Renegades Crew, the Umbrella Academy, LINE Wangaratta Volunteers and the Drag'd Out Festival crew on how important it is to acknowledge and celebrate the day. It concluded with the raising of the rainbow flag and morning tea.
Council's Director Community and Economic Development Mark Florence said that each year Council's IDAHOBIT celebrations grow, demonstrating the Shire's leadership and commitment in ensuring a culture where everyone feels safe and supported.
"I am proud to stand here today with my colleagues and our special guests and say that Indigo Shire Council does not stand for any discrimination against our LGBTIQIA+ friends, colleagues and family."
"While we formalise this commitment every year on IDAHOBIT, we honour it every single day." Mr Florence said.
Mr Florence said he was also proud of the steps Council has taken over the last few years toward genuine inclusiveness, including the key role staff members played in supporting the North East Pride Collective in developing the Rainbow Ball, as well as training Council staff in LGBTIQA+ leadership, community advocacy, and providing opportunities for LGBTQIA+ people and allies to build connections.
LINE Wangaratta volunteer Al Winters spoke powerfully on how far the community has come in supporting LGBTQIA+ people but says more work needs to be done. They also expressed their gratitude for Council's support of Beechworth's upcoming Drag'd Out Festival, saying that once upon a time they never would have thought an event aimed at celebrating diversity would be possible.
Echoing the sentiment and motivation behind IDAHOBIT and Al's speech, a Drag'd out committee member shared the festival's mission statement.
"DRAG'D OUT is a Queer, inclusive Festival of the Arts. It celebrates all people within the LGBTQI+ community and their allies. The festival's diversity will bring together people from all walks of life as a positive platform and safe space, enabling these cultures to explore themselves, educate audiences, and spread the love with entertainment." The committee member said.
Representatives from the Rutherglen Rainbow Renegades and Beechworth High School's Umbrella Academy also spoke, sharing moving personal stories of their journey to acceptance and thanked Indigo Shire for its ongoing support.
"Representation is such an important step forward for kids like me to be able to express ourselves in an open manner from an early age and without fear of judgement. Days like IDAHOBIT don't just give us a day of freedom but also makes people face the reality that we aren't just hidden in the shadows, we are here and we always have been." Beechworth Secondary student Amelia Ryan said.
"I want to live in a world where there is no fear for being different so it is up to us every day to promote inclusiveness and diversity." Amelia said.
Mayor Gaffney concluded the ceremony by raising the rainbow flag and stating that regardless of anyone's gender, all people are welcome in Indigo Shire.
/Public Release. View in full
here
.