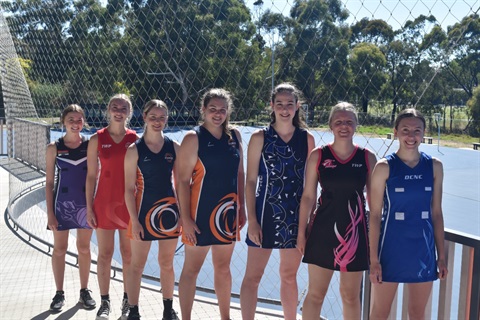 Netball has made a big return to Diamond Creek following the completion of the $2.52 million upgrade of the Diamond Creek Netball Courts.
Nillumbik Shire Council completed the project in time for this month's 2022 season launch.
Works included replacing the eight asphalt-based courts with an acrylic plexi-pave finish, and installing new lighting, seating and shelters, ensuring the courts are compliant to Netball Victoria standards.
Mayor Frances Eyre said the courts were an important regional sporting hub, attracting players from Nillumbik and beyond.
"It's wonderful to welcome our netballers back to what is now a first-class facility," she said. "The upgraded courts complement the new $2.83 million pavilion which was completed in 2020."
Ellis Ward Councillor Peter Perkins said the project was the latest in a number of infrastructure upgrades to benefit Diamond Creek.
"I'd like to thank the Victorian Government for their significant investment in our community," Cr Perkins said.
"The Diamond Creek Netball Courts cater to a large number of players and teams from throughout the region, making it a significant sporting hub for our local community and beyond."
The project has been funded with $2.29 million from Sport and Recreation Victoria through the Community Sports Infrastructure Program and $229,000 from Council. The netball pavilion was funded with $2.55 million from the Victorian Government's Growing Suburbs Fund with contributions of $200,000 from Council and $80,000 from the Nillumbik Force Netball Association.
The Diamond Creek Netball Courts are home to the Nillumbik Force Netball Association with seven clubs, more than 100 teams and 1200 players.
Association President Mark Goldspink said the new courts and pavilion were a huge boost for the region.
"This whole new facility is fantastic. We are hoping we will see an increase in participation rates following the impact of COVID-19 on community sport," he said.
"Now the courts are Netball Victoria compliant, we will be able to host major events and tournaments attracting people from across the state, which will provide associated economic benefits for local business."
The lighting upgrade at the courts is one of five lighting upgrades being completed across the Shire. The Eltham Lower Park front oval, Bridge Street Reserve in Eltham, Hurstbridge East Oval and Diamond Hills Reserve in Greensborough are the other sports ground to benefit.
/Public Release. View in full
here
.