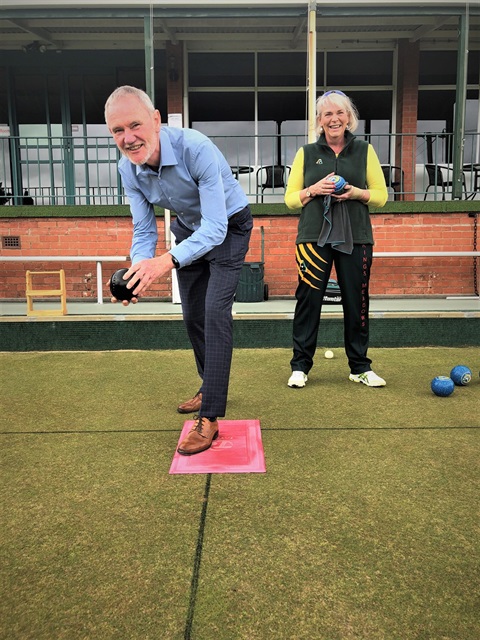 The popular sport of lawn bowls will be combined with community building at a free public workshop in Kings Meadows next month.
Kings Meadows residents are being invited to take part in the community workshop to identify the suburb's strengths and opportunities as part of the City of Launceston's Learning Site project.
The workshop will be held on Wednesday, November 10 at the Kings Meadows Bowls Club and will be hosted by Peter Kenyon OAM, who has worked on community projects in nearly 60 countries around the globe.
Launceston Mayor Albert van Zetten said Kings Meadows was one of Launceston's most popular residential suburbs, with an active and vibrant community.
"When we were selecting a location for this workshop, we couldn't go past the Kings Meadows Bowls Club," Mayor van Zetten said.
"Bowls clubs across Australia are examples of small communities working together towards a common cause and playing to their strengths and the Kings Meadows Bowls Club is a shining example of that right here in Northern Tasmania.
"It's a perfect metaphor for the Learning Site program which, on a broader scale, has worked previously in suburbs like Youngtown, Mowbray, Rocherlea and Ravenswood to identify community projects and build common purpose among residents and community groups."
The City of Launceston's Community Connector Sarah McCormack said the workshop aimed to identify Kings Meadows' assets, build connections and identify community projects.
"If you live or work in Kings Meadows, or simply have a connection to the suburb, these workshops are a fantastic and fun way to meet new people, consider what makes this suburb special and develop a common purpose," Ms McCormack said.
"The host of the workshop, Peter Kenyon, is an extremely well credentialed and entertaining speaker, and he is going to bring a lot of enthusiasm to the day.
"It doesn't matter what your background is, if you've got an interest in Kings Meadows, we'd love to see you there.
"The host venue, the Kings Meadows Bowls Club,
In order to meet COVID-safe requirements, registrations are required by Friday, November 5.
/Public Release. View in full
here
.