Leigh Carriage, Southern Cross University
Janis Joplin died 50 years ago this Sunday, aged just 27, but her songs reach beyond time. Her enduring influence and popularity can be attributed to her raw, unadulterated, fearless performances.
We respond to vocalists who can express emotions such as pain, angst and release. Joplin gave us all those in spades, delivered with a powerful, uninhibited raspy voice.
Influenced by artists like Bessie Smith, Otis Redding, Billie Holiday, Ray Charles, Tina Turner and Aretha Franklin, she possessed a command of blues styling, phraseology and melody. She was inducted into the Rock and Roll Hall of Fame in 1995 and voted number 28 in Rolling Stone's greatest singers of all time in 2008.
But when we hear a vocalist such as Joplin, who stirs something deeply in us, what is actually happening?
In command of her voice
The origins of music are rooted in the emotional expression of the human voice. Expressive musical performances have been shown to activate the emotional centres of our brains.
Joplin had a powerful and commanding voice. In her live performances she was focused and uninhibited, showcasing a broad palette of distinctive vocal timbres coupled with a fast vibrato. With her three-octave range, she used raspy growls, wails and screams to express raw emotion.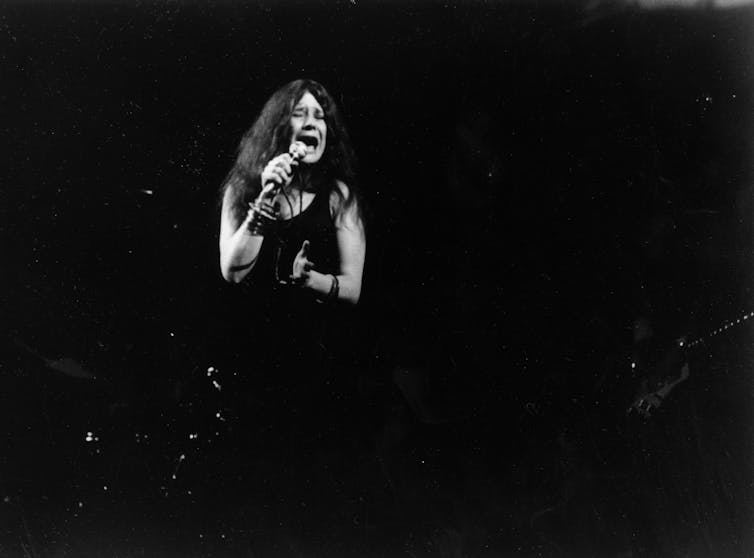 Rock singing often uses a rich chest voice, requiring great physicality and energy. Blues and rock singers might also incorporate a constricted quality in their voices: tightening the larynx and manipulating the air pressure they sing with.
Joplin's voice has been described as using a distortion and edge, a mixture of noise and tone.
/Public Release. View in full
here
.