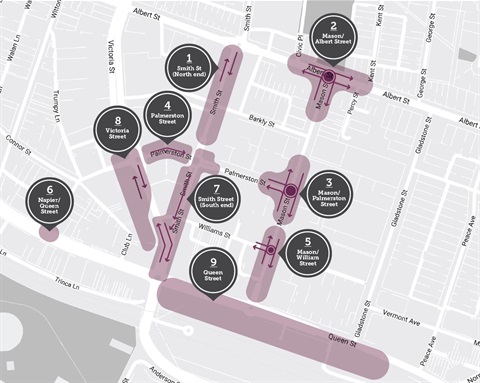 Works will soon begin on a new set of traffic lights to improve traffic flow and safety at the Queen and Napier Street intersection in Warragul.
The new traffic lights form the sixth stage of the overall nine-stage Warragul CBD Streetscape project designed to improve the experience and appeal for those visiting the area.
Preparation and construction works are set to commence this week with completion expected by the end of June.
Once operational, the new traffic lights will:
Improve safety and access for traffic turning from Napier Street onto Queen Street (and vice versa).
Improve safety and access for drivers performing a U-turn to access Aldi and the nearby service station.
Improve pedestrian safety, access and connectivity across Queen Street with a new fully signalled crossing.
Local contractor Mad Cat Constructions will carry out the works valued at $400,000.
Traffic management will be in place as the project progresses.
Each stage of this project is being delivered in close consultation with VicRoads, local businesses and shops to support the retail-heart of Warragul.
Following completion of current works on Smith Street and these new traffic lights, the final two stages will see beautification and minor upgrade works to paths and other amenities along Victoria and Queen Street. Further consultation opportunities will be available for the final two stages.
For full project details go to Warragul CBD Streetscape Project.
As stated by Mayor Cr Mikaela Power
"These traffic lights are an important part of the overall CBD streetscape project. Once complete, they will provide an alternate access point for the CBD area, making it safer and easier for both pedestrians and drivers to cross Queen Street."
"In addition to these new works, we're also in conversation with VicRoads to improve the functionality of the pedestrian crossing on Victoria Street. As both Victoria Street and the signals are operated by VicRoads, we've requested the timing of the signals be adjusted to improve traffic flow at the Queen Street roundabout."
As stated by Central Ward Cr Joe Gauci
"As a Warragul resident I'm looking forward to the added convenience of these lights. Queen Street traffic often makes it difficult for pedestrians to cross the street. It can also hold up drivers turning out from Napier Street – especially if you're heading west towards Drouin. These traffic lights will make it so much easier and safer for drivers and people on foot."
/Public Release. View in full
here
.