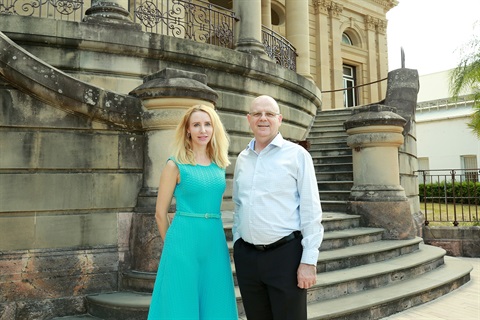 Two Rockhampton Regional Council Officers will travel to China next month to showcase the success of Council's Smart Regional Centre Strategy at the 2019 China Hi-Tech Fair in Shenzhen.
Rockhampton Regional Council CEO Evan Pardon said this is a fantastic opportunity to showcase our region as a leading smart regional centre.
"We were one of the first regional centres in Australia to introduce a smart strategy," said Mr Pardon.
"The success of our Smart Way Forward Strategy is absolutely clear when you walk through the inviting CBD and revitalised Riverside Precinct, or speak to one of the entrepreneurs and business owners who have made use of our incredible SmartHub facility.
"Our Strategy also received national recognition with the 2016 National Economic Development Award for Excellence in the Digital Entrepreneurs Category.
"This invitation is an absolute credit to the work we have done, and I know that Drew Stevenson, Manager of Corporate and Technology Services, and SmartHub Business Manager Elize Hattin will absolutely do our Region proud."
Drew Stevenson said the invitation not only recognises the success of the smart strategy, it also provides a great opportunity to learn from other experts.
"The China Hi-Tech Fair is the largest and most influential scientific and technological fair in China, and representatives from across the world will be present," said Mr Stevenson.
"As well as showcasing the success of our work, and our region more broadly, this will provide us with a great opportunity to see what other innovative technologies are being introduced across the world, and explore how these could be applied here."
Elize Hattin said she is looking forward to showcasing the success of SmartHub.
"SmartHub is a fantastic co-working facility which offers a brilliant community for start-ups to thrive, and eventually play an important role in the growth of our region," said Ms Hattin.
"We know that this is an area that China and other countries around the world are very interested in, and we're looking forward to sharing our wins as well as the lessons we've learned along the way."
A video with more information about the Smart Way Forward Strategy can be found here: https://www.youtube.com/watch?v=A361ZdV9Dbg, and a video about SmartHub can be found here: https://www.youtube.com/watch?v=rItAH-1BOwQ
Travel and accommodation expenses for the forum are mostly funded by the China Hi-Tech organising committee with the exception of travel expenses for one Council Officer, which will be catered for in Council's Corporate & Technology Section operating budget.
/Public Release. View in full
here
.