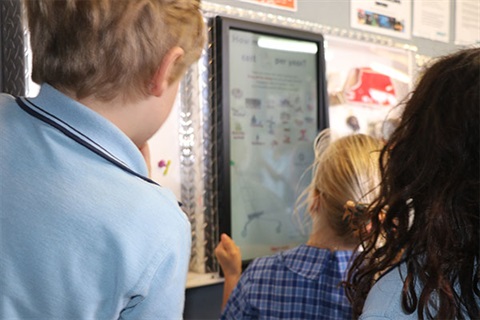 There's a new classroom at Byron Bay Public School this week courtesy of Byron Shire Council and the RSPCA.
The RSPCA's EMU bus, which stands for Mobile Education Unit, is in town to work with the school's students on a wide range of activities promoting responsible pet ownership, and teaching them about threats to wildlife and animal welfare.
Shannon Burt, Council's Director Sustainable Environment and Economy, said the aim of the program is to provide children with information and skills that they will be able to use both now and in the future.
"The Byron Shire has high rates of pet ownership and we are also lucky to have incredible native wildlife including koalas, wallabies, frogs and lizards," Ms Burt said.
"If Council, and the RSPCA, can work with children to teach them about how to look after their pets to make sure they are well-trained and not allowed to roam uncontrolled then hopefully this message will hopefully be taken home and put into practice.
"The EMU bus makes learning about how to be a better pet owner really fun through activities, computer displays, campaign information, toys and games.
"The information covers Council's role in registration of pets and why it's essential to have your dogs and cats microchipped and de-sexed.
"As well as how to avoid being bitten by dogs – and how to choose pets that are right for your lifestyle," Ms Burt said.
"The children are loving the vet centre which has x-rays of different animals that they have to identify," Darryl Joy, the RSPCA's Senior Education Officer, said.
"There is also a wildlife diorama which highlights the impacts of animals like uncontrolled cats and dogs on the environment and the threats they present to wildlife," Mr Joy said.
In 2017/18 the RSPCA in Australia took in 40,286 dogs and 53, 011 cats, the majority of which were unwanted. Many unwanted pets would also have been released into the community and bush.
One of the key messages being taught in the EMU bus is that owning a pet is a big decision and a commitment for many years.
"The activities not only teach children to care and respect all creatures great and small, but also help to shape compassionate and humane citizens of the future," Mr Joy said.
/Public Release. View in full
here
.