Lindsay Point residents Kym and Karen Eckermann have been jointly named as the Lions Club of the City of Adelaide and South Australia Police (SAPOL) 2022 Citizen of the Year.
This year's award is jointly presented to Mr and Ms Eckermann in recognition of their tireless commitment to assist SAPOL at the Lindsay Point border checkpoint throughout the COVID-19 pandemic.
The Eckermanns provided countless hours of support, comfort, cheer and compassion to the SAPOL officers who staffed the remote checkpoint. Conditions were often very challenging for SAPOL members and other personnel working at the Lindsay Point border checkpoint. There could be limitations on accessing fresh food, freezing conditions at night and the feeling of being so far from home. Many of those who worked on the border checkpoint said that these conditions often made a long shift particularly exhausting.
Aware of the issues being felt by SAPOL members at the border, the Eckermanns purchased, prepared and delivered hot food, cakes, fresh fruit, scones and other supplies for the entire five month period that the border checkpoint was in operation. They also supplied firewood during winter so that a fire could be maintained to keep SAPOL and Australian Defence Force personnel warm. The Eckermanns continuously checked in on the SAPOL members and kept their spirits up with their company and warm hearted conversation.
When South Australia went into its first lockdown in July 2020, many SAPOL officers who finished day shift were faced with the difficulty of accessing fresh food due to store closures. The Eckermanns sprung into action, gathering essential supplies and cooking up a feast, refusing to accept any money or contribution towards the food. Within a few hours, members on various rotations were enjoying a hot meal and soon after Kim went home to bake a batch of scones.
In addition to this, the Eckermann's local knowledge of the area and weather conditions and advice regarding local habitat also proved extremely useful in ensuring a safe and comfortable area for those staffing the checkpoint and those passing through.
Their commitment tied to their outstanding local knowledge left a lasting impression on officers staffing the border with many SAPOL members supporting the nomination for the Eckermanns.
Acting Deputy Commissioner of Police, Philip Newitt joined with members of the Lions Club to present the award at a ceremony today.
"The concept of community has been tested over the past two years as we have adapted to the pandemic and its profound impact on our lives. However, as we can see from the wonderful efforts of Kym and Karen Eckermann, this hasn't undermined the importance of community and the enrichment and purpose it brings to people's lives," he said.
"Kym and Karen's community spirit shone brightly, with their care, kindness and compassion leaving an incredible impression on many of the nearly 70 police officers who staffed the checkpoint at various stages."
Nominations for this award are made annually in recognition of assistance provided by community members to police during the previous year.
The Lions Club of the City of Adelaide and South Australia Police Citizen's Award was first awarded in 1979.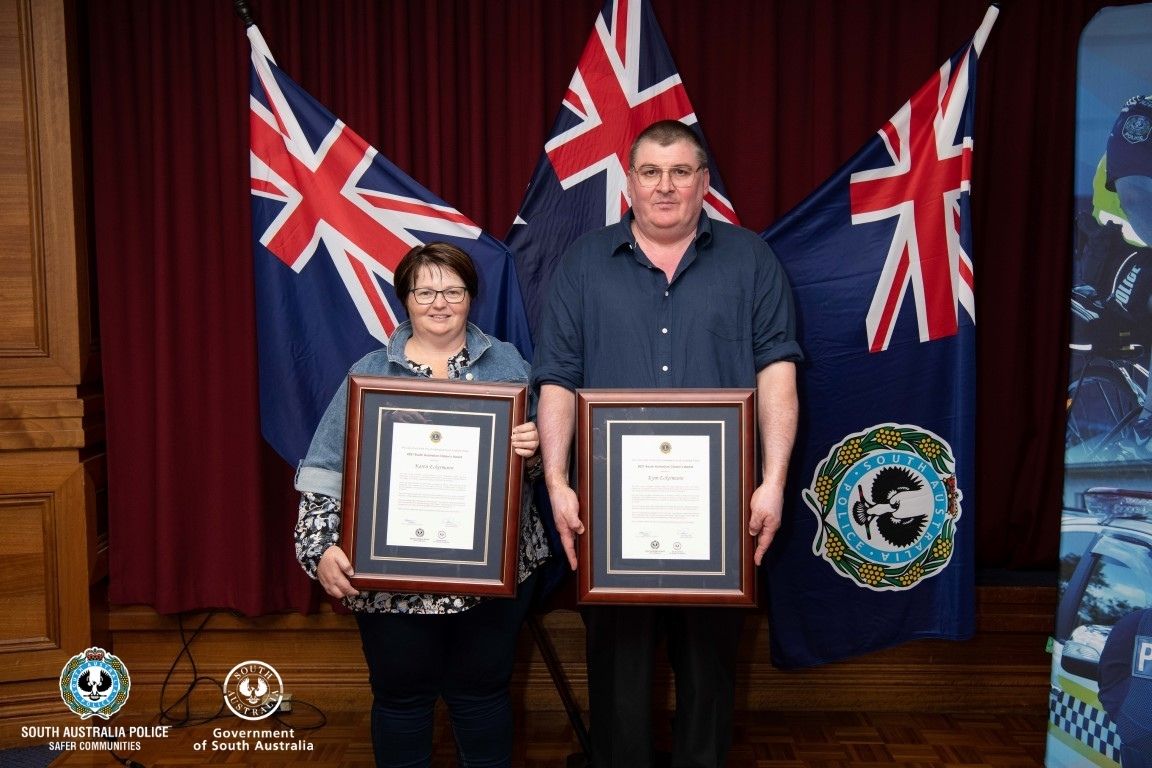 Image above: Karen and Kym Eckermann
/Public Release. View in full
here
.