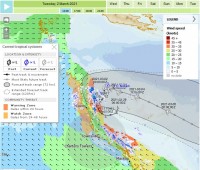 The Bureau of Meteorology is continuing to monitor and provide forecasts and warnings about Tropical Cyclone Niran, which has now developed off the north Queensland Coast.
We wish to reassure the North Queensland community that the issue with the Townsville radar in recent days does not affect the Bureau's ability to issue forecasts and warnings.
Radars are not the only source when the Bureau tracks and forecasts cyclones.
Given the impact of severe weather in North Queensland and the value radars provide in relation to situational awareness of weather, the Bureau has a number of radars along the coast that provide overlapping coverage – the Bowen radar is an excellent alternative for the Townsville community.
Users of the BOM Weather app will notice no difference in coverage given the overlaps.
The Bureau prioritises getting radars up and running as quickly as possible. Shortly after the Townsville radar went offline on Sunday, technicians were onsite.
However, radars are very complex machines that run 24/7, and will from time to time, experience a significant issue that will take time to repair. In this instance, multiple components are being sourced and we estimate the radar will be back up and running by Thursday 4 March.
The Bureau runs a routine six-monthly maintenance schedule for each of its nearly 70 radars.
Radars in North Queensland are always serviced ahead of the summer cyclone season – the Townsville radar was serviced in October 2020 and will have its next service in April 2021.
The Cairns, Willis Island, Bowen and Mackay radars are all currently operational.
In addition to our radars, the Bureau has other tools the community can use to monitor the weather – including the satellite viewer on the Bureau website at https://satview.bom.gov.au/ as well as graphical weather service MetEye.
The latest information about TC Niran and its likely impacts is available at https://www.bom.gov.au/cyclone/
/Bureau of Meteorology Public Release. View in full
here
.