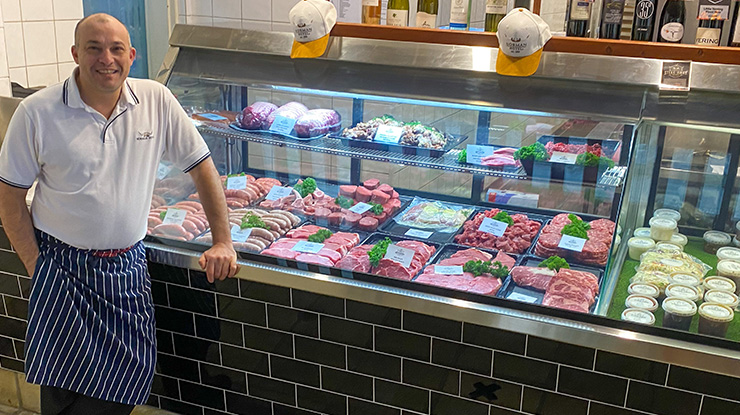 Norman Hotel Executive Chef Frank Correnti in front of the hotel's pop-up butchery.
With over 2000 steaks a week served under its cheeky motto of 'Brisbane's worst vegetarian restaurant', the Norman Hotel steakhouse has built its reputation on delivering an exceptional eating experience for its customers.
For Norman Hotel Executive Chef, Frank Correnti, the Meat Standards Australia (MSA) program is critical to guaranteeing the beef on the menu of one of Brisbane's busiest restaurants delivers on that promise.
Frank sources both grainfed and pasture-fed beef from a range of MSA-accredited producers and suppliers, including Nolan Meats, Bindaree Beef, NAPCo's Five Founders, Black Opal Wagyu as well as a range of brands from JBS Australia including Thousand Guineas Shorthorn Beef, Yardstick, and Queenslander.
Despite the unique specifications each brand delivers, Frank said the one common thread amongst them all was excellent eating quality, with all MSA-graded beef identified on the Norman Hotel's menu.
"Australia has probably got the best beef in the world today, so we're spoilt in a way. The quality that consumers can buy in a restaurant, butcher shop or supermarket is top notch," Frank said.
"The foodservice industry is asking a lot for people to come and spend $28 or $30 for a steak, or in some restaurants, up to $45 or $50, and so you need to give them a great eating experience.
"When I started as an apprentice chef in the late 1980s, the steak was good but there was no portioning and it was hit and miss as to whether a steak would eat well. There was always a rogue piece that was tough.
"With MSA, it has dramatically improved the quality of the eating experience and customers are very savvy about tenderness and flavour and are becoming very aware of MSA and what it means."
Plate appeal
Frank said besides delivering a guaranteed eating quality experience, MSA meant all portions were consistently visually appealing.
"People eat with their eyes and for our customers, the process of choosing a steak is visual," Frank said.
"All of our steaks are displayed in our meat cabinet, so it needs to look good before a chef even puts it on the grill. Six out of ten customers will choose a specific piece when they order.
"We also have a 'cut your own' option, where we have a whole primal in the meat cabinet and the customer gets to choose the weight and we charge per 100g."
Frank said his approach to selecting beef for the menu is to work from the plate backwards, using MSA in portioning decisions.
"We deal in only plated primal cuts and so I look at the size we want to put on the plate," Frank said.
"For example, we have a 250g and a 340g rib fillet that we serve. I cannot get those two weights from the same animal without it affecting the thickness of the steak, so for the larger fillet we source from larger MSA-graded carcases where the primal is a little bigger. And for 250g, we want an animal that is a bit younger which will give us a smaller primal.
"We also look at days on feed or whether it's pasture fed, although MSA is not dependent upon feed type. Ageing is also important, and we like to see a minimum three or four weeks of ageing before it arrives at the hotel.
"Our menu is printed once a year, we don't change it. We're not a small venue, so we require a lot of commitment from our producers to give us the same quality, day-in, day-out, 365 days of the year, and that's the role of MSA."
Hands-on training
Frank has been an advocate for MSA since its inception 20 years ago, and over the past six years he has been at the Norman Hotel, has ensured all staff receive training in the program.
At least once a year, MSA End User Facilitator, Kelly Payne, conducts training sessions with staff at the hotel.
"It's important not only for our chefs, but especially staff on the front counter to be educated about MSA, because they're our front line, answering any questions customers may have," Frank said.
"We also conduct our Mastersteak BBQ Cooking classes, where customers not only cook their own steak but we educate them about primal cuts, about MSA as well as show them what to look for when buying meat and the best way to cook it."
To utilise the MSA trademark and become an MSA-licensed outlet visit mla.com.au/msa
/Public Release. View in full
here
.