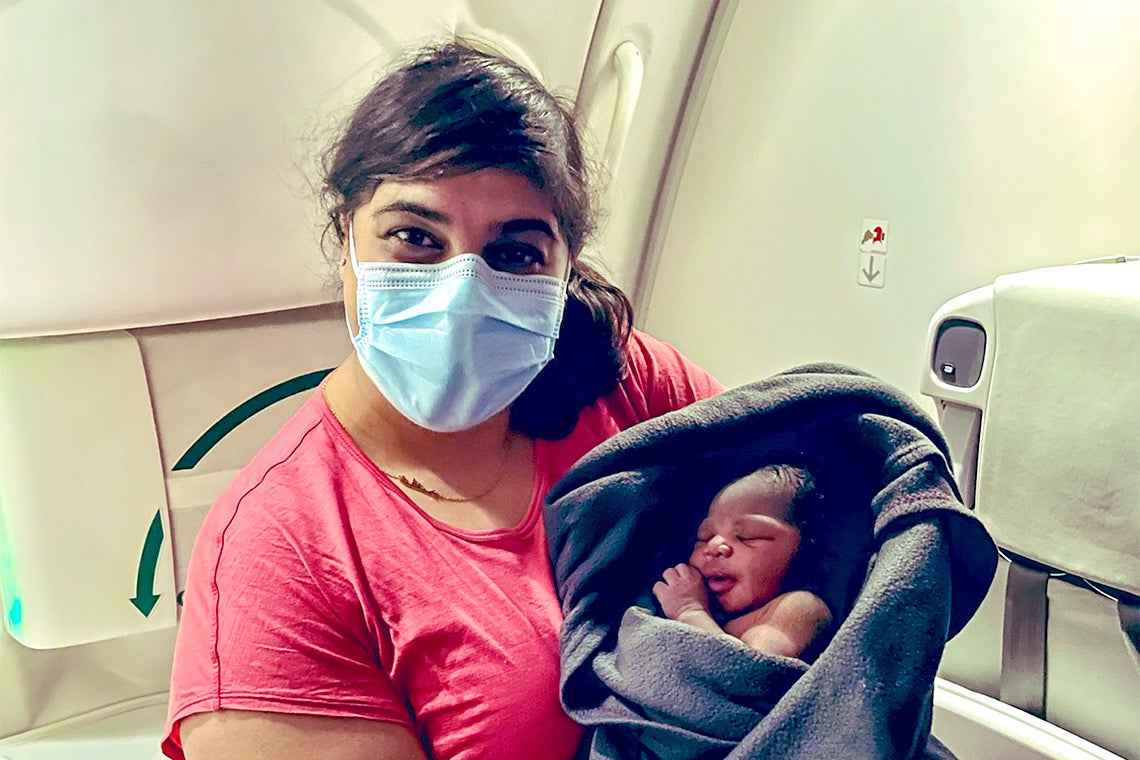 Ladies and gentleman, is there a doctor aboard the aircraft?
Aisha Khatib, of the University of Toronto's Temerty Faculty of Medicine, answered the call on a Qatar Airways flight from Doha to Entebbe, Uganda on Dec. 5.
The assistant professor in the department of family and community medicine and physician at St. Michael's Hospital shared details on Twitter this week of how she helped the crew deliver a "miracle baby" at 30,000 feet. And it wasn't long before the series of posts instantly led to flurry of reporters' calls and coverage in Canada and beyond.
Khatib – whose research includes a focus on medicine and travel, including airplanes – attributes the attention to people's desire for a heartwarming story as much of the world remains deluged with COVID-19 cases.
"It's pretty amazing to see how much joy this has brought people," she says.
Khatib says she was flying to Uganda for work and training in tropical medicine when the crew paged for a doctor about an hour into the flight.
"I told the air steward nearby [that I had] an emergency medicine background and she's like, 'Go!'" Khatib says.
She left her seat and ran to the back of the plane where she saw passengers crowding in the economy section.
"The first thing that came to my mind was that someone was having a heart attack," she says. "I was preparing for that and I ran over, said 'Hi, I'm the doctor,' and I see this woman lying there with her head towards the aisle and feet towards the window on the seat, and there's a baby coming out."
Khatib delivered the baby then turned to the person to her left, an oncology nurse who had also volunteered to help, and asked for supplies: medical kit, hot water, scissors, clamps – or in the absence of clamps, shoelaces.
She was handed an onboard delivery kit that contained clamps, scissors and oxytocin, a hormone that can help induce contractions or stop bleeding by causing the uterine muscles to contract. In the meantime, a passenger introduced herself as a pediatrician with Doctors Without Borders (Médecins sans frontières).
"This is amazing," Khatib recalls thinking. "I was able to clamp the cord and cut it. At that time, the baby looked – it was crying, it was healthy looking, it didn't look like there was any distress."
She wrapped the newborn in an airline blanket and handed her to the pediatrician to check the baby's breathing. She then delivered the placenta while taking the mom's medical history. "I was just praying that things didn't go wrong, there wasn't any bleeding," she says.
When the delivery was complete and both mom and baby were stable, Khatib said, "Congrats! It's a girl!"
The plane erupted with applause, reminding Khatib that she was doing her work before an audience.
Since sharing the story on social media, Khatib says she has been inundated with interview requests. She spoke to reporters between seeing patients and heading a COVID-19 vaccine clinic – with the story featured everywhere from CBC's flagship news program, The National, to the BBC.
"I have cousins in Pakistan who have seen this. I worked in the slums of India, and they messaged me. I have people messaging me from New Zealand, France, Belgium and Peru."
Khatib went on to spend two weeks working in Uganda, seeing cases of severe malaria, parasitic infection and sleeping sickness, among other issues. She also went into the field to better understand public health measures to deliver drugs to fight parasites.
On her return flight to Toronto, she says she couldn" believe it when she heard another announcement seeking a doctor on board. "You've got to be kidding me," she thought. "What now?"
This time, however, she wasn't the only physician on the scene.
"I just kind of looked at him and I was like, 'This one's yours.'"
Rossen Dimitrov, chief officer customer experience at Qatar Airways, thanked Khatib for coming to the passenger's aid.
"We were very lucky to have a wonderful doctor aboard the aircraft, who worked very well together with our crew," he told U of T News. The airline, which doesn't allow passengers to fly after a certain point in their pregnancy, has nevertheless recorded roughly one high-altitude birth per year in the last 11 years, he says.
"Even though we have extensive training, even though they [cabin crew] have a connection to a doctor through a satellite link, it is always best to have a doctor aboard the aircraft who can evaluate the situation on the spot," Dimitrov says.
The airline says it is planning a surprise for the mom, baby and the doctor who brought her into the world.
"We're doing something good for her [Khatib], we're planning to do something for the mother and baby as well, and also we're planning a reunion between Dr. Khatib and our crew," he says.
"Obviously, we would have to do it virtually to begin with. We would love to have her visit us in Doha one of these days."
Khatib said she hopes the extensive media coverage will be of some help to the mom, a Ugandan migrant worker returning from Saudi Arabia, and her baby girl.
"Times are tough in Uganda, so any benefit that all this media can garner for support for her and her baby would be really fantastic," she says.
The mother, meanwhile, thanked Dr. Khatib another way – by naming her girl Miracle Aisha.
Khatib, meanwhile, presented the newborn with her first-ever gift, a necklace she was wearing that spells Aisha in Arabic.
"She's my namesake," Khatib says. "She'll remember this came from the doctor who delivered her up in the air while we were flying over the Nile."
/Public Release. View in full
here
.