Cases of inflammatory bowel diseases (IBD) – such as ulcerative colitis and Crohn's disease – are on the rise, with over 210,000 people suffering from the condition in Japan. IBD patients also have a higher risk of blood clots, which remain a significant cause of mortality in IBD patients.
Now, a team of researchers has found a combination of rare and common genetic markers that allow them to predict accurately which patients are at a greater risk of developing blood clots.
"Our study showed that around 15% of IBD patients are genetically high risk for thromboembolic diseases (TED)," said Takeo Naito, PhD, first author of the study.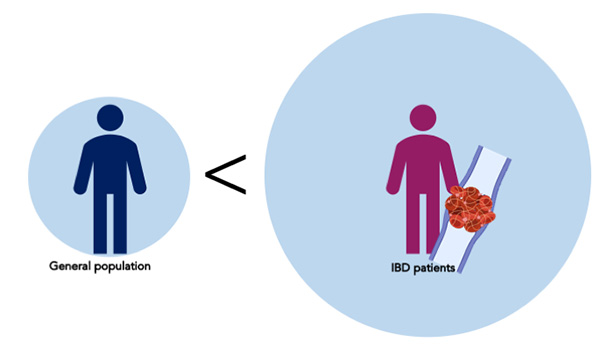 Naito, who is based at the Department of Gastroenterology at Tohoku University's Graduate School of Medicine, worked with his colleague Prof. Atsushi Masamune along with the study's senior author at Cedars-Sinai: Dermot P. McGovern, MD, PhD, Joshua L. and Lisa Z. Greer Chair in Inflammatory Bowel Disease Genetics.
The study also stratified patients into three groups – lowest, medium and highest – according to their genetic risk for TED, showing that patients with a higher genetic risk are at more than 8 times likely to suffer from TED compared to those with the lower genetic risk.
Separating patients based on the genetic risk of TED allows for the promotion of personalized medicine and for doctors to develop better treatment options for high-risk patients.
Naito hopes the findings can help treat patients with COVID-19. "Looking ahead, we want to expand this study to other diseases prone to blood clots, including COVID-19."
Publication Details:

Title: Prevalence and Effect of Genetic Risk of Thrombo-embolic Disease in Inflammatory Bowel Disease.

Authors: Takeo Naito, Gregory J. Botwin, Talin Haritunians, Dalin Li, Shaohong Yang, Michelle Khrom, Jonathan Braun, NIDDK IBD Genetics Consortium, Lisa Abbou, Emebet Mengesha, Christine Stevens, Atsushi Masamune, Mark Daly, Dermot P.B. McGovern

Journal: Gastroenterology
/Public Release. View in full
here
.