Ban the post-lockdown blues, pick up some binoculars and explore your own backyard during National Bird Week.
With international borders firmly shut for more than a year and our most populated cities in lockdown for months, new interest shown by many Australians in their own backyards could lead to connections with urban wildlife that change attitudes for life, says Macquarie University biologist and bird expert, Professor Simon Griffith.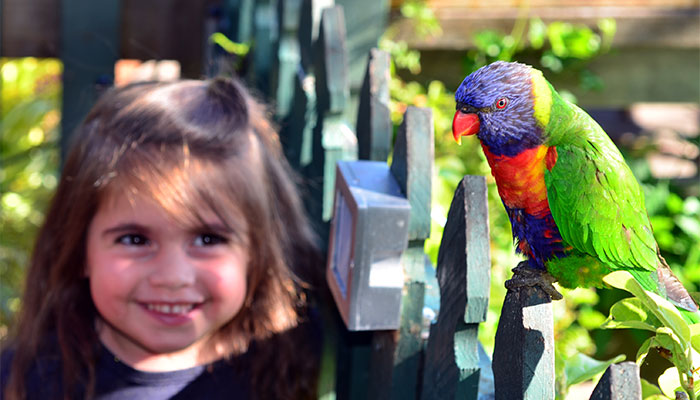 Visitors welcome: Joining the Backyard Bird Count can captivate kids, especially during spring when birds are at their busiest.
Birds are the most visible and varied wildlife in cities, says Griffith – it's easy to spot 15 different species on a walk around the block – and bird-watching has a big impact on people.
Birdwatching gets people to think about the world around them, and to understand the local environment they live in and the ways that we are changing and modifying it, he says.
"Studies from around the world show that when people connect with urban birds – even through the simple act of throwing a few breadcrumbs to a sparrow or pigeon – they often build a meaningful relationship with birds that affects the way they relate to the natural world," he says. "It can even affect the amount they donate to conservation."
You don't have to be able to identify all the birds you see – just open your ears and eyes, keep still and be patient – there's often a lot going on.
Australia's National Bird Week takes place during October each year – mid-spring, when there's plenty to watch – and activities include a huge and growing citizen science project, the Aussie Backyard Bird Count, attracting more than 4.6 million bird observations last year.
Birdlife Australia's hotly-contested poll for 'Bird of the Year' via the Guardian occurs in the lead-up to bird week, with this year's winner, the superb fairy-wren, a tiny favourite in many backyards.
A mental health booster
Lockdown has tied many of us to screens, but ditching Twitter to become a 'twitcher' (bird watcher) could help us recover from our pandemic blues, as research shows there's real mental health benefits to be gained from birdwatching, Griffith says.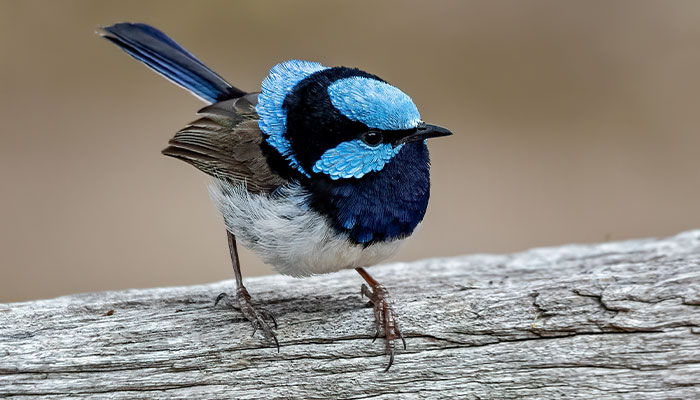 Time to shine: The superb fairy wren won this year's hotly contested poll for Bird of the Year.
Joining the Backyard Bird Count can help boost our knowledge of local birds, and can captivate kids, whose short attention spans are best served in spring, as it's breeding time.
"Birds in that breeding stage tend to sing and call more, and they're busier as well, building nests and then raising nestlings and foraging for their food," he says.
Sydney's local bird community is also boosted by birds that are seasonally migrating from the north, such as the channel-billed cuckoo and eastern koel – both notorious for their loud calls through the night and early morning at this time of year, disturbing our sleep.
Advice for newbie twitchers
Begin by making a list of the birds you see in your own patch, says Griffith, adding that bird counts can introduce wildlife observation skills to both children and adults.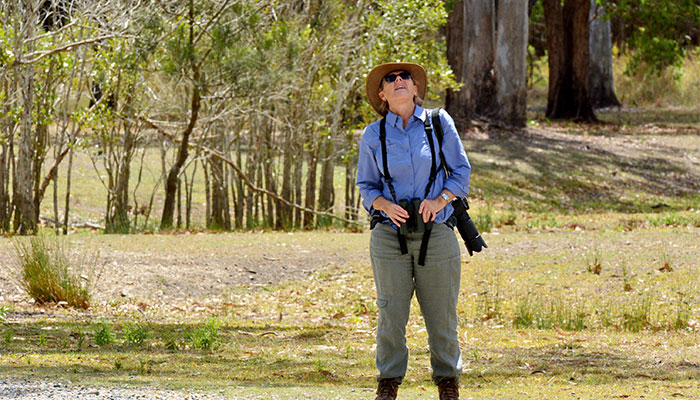 Look, it's a bird: Birdwatching has real benefits for mental health, research shows.
He recommends the Merlin Bird ID app, from Cornell – but there are plenty of other books, websites, apps and guides to help you identify local birds including the Birds in Backyards website or the Australian Museum's Urban Birds list.
"You don't have to be able to identify all the birds you see – just open your ears and eyes, keep still and be patient – there's often a lot going on," he says.
"Look at the differences between different birds: is it a big bird? Or is it a small bird? What's the main colour? What's the bird doing? What's it eating? Is it making a noise?"
Australia lags behind the strong bird-feeding traditions in Europe and the UK, where people make a big effort to attract birds into their gardens – but putting out fresh water away from cats and dogs, is a good way to start, he says.
"You will see birds come to find water, especially in hot weather – this is a great way get up a bit closer and maybe even get to know individual birds," he says.
Noisy neighbours
The bird community in Sydney has changed dramatically since colonisation, but ongoing changes to the mix of birds that live in our local neighbourhoods is shaped by simple decisions like the types of plants we put in our gardens.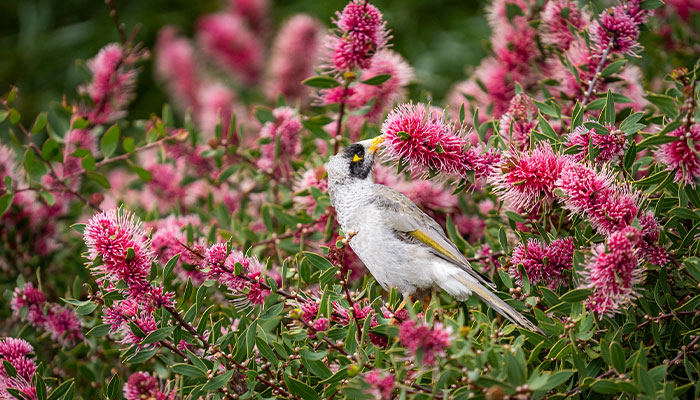 Sweet and sour: Backyards are becoming a paradise for nectar feeders such as noisy miners, a species which can drive away smaller birds.
"As habitat changes, birds that rely on particular plants will leave the area when those are removed – and some birds that are very good at adapting to the urban environment can also drive out less-adapted birds," says Griffith.
Examples include the Australian white Ibis – prolific scavengers in public parks – and the territorial noisy miner honeyeaters.
"Historically, noisy miners were edge specialists, living in the intersection between woodland and grassland – which reflects many of today's urban environments," says Griffith.
As habitat changes, birds that rely on particular plants will leave the area when those are removed.
Plant nursery fashions mean Sydney's backyards are also becoming a paradise for nectar feeders like noisy miners, rainbow lorikeets and eastern rosellas.
Grevilleas in local nurseries are bred with bigger flowers that last longer and produce more nectar than those in the bush, so Sydney's gardens now produce more nectar per kilometre than has ever existed naturally, says Griffith.
Safe spaces
"Noisy miners are very aggressive to other birds and if smaller birds can't find safe spaces to take cover, noisy miners can drive them away," says Griffith.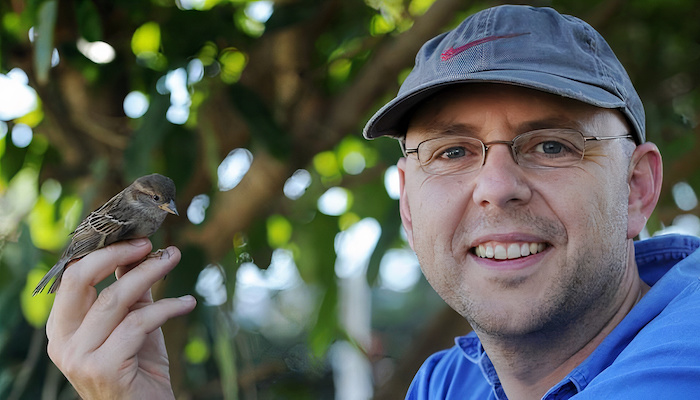 Pushed out: Professor Simon Griffith with a sparrow, introduced to Australia in the 1850s but now rare in Sydney due to noisy miners.
Ironically, the introduced house sparrow is now quite rare in Sydney due to noisy miners – but sparrows remain abundant in most Australian country towns.
Sparrows were introduced to Australia along with starlings (common myna bird) in the 1850s to help control insects on food crops, as these birds are highly adapted to disturbed habitats in Europe, so they settled around farm buildings and reduced pests, Griffith says.
Griffith says that powerful owls are another urban bird success stories, as they feed primarily on possums – and the density of possums is much higher in backyards than in regular bushland.
The next step on your birdwatching journey could involve improving the diversity of your local bird life by choosing different plants for your garden with birds in mind – such as creating more shrub cover so species like the blue wren and willy wagtail can hide from noisy miners.
"Even a small change can make a big difference to some of these tiny birds," says Griffith.
Simon Griffith is a Professor in the Department of Biological Sciences at Macquarie University
/Public Release. View in full
here
.