New data from Commonwealth Bank shows the bank's customers have saved more than $10m on everyday purchases since the bank launched its cashback program CommBank Rewards in late 2019, a few months prior to the COVID pandemic starting.
CBA Executive General Manager, Everyday Banking, Kate Crous said: "COVID is causing a lot of uncertainty for many people, so every extra dollar helps. Four in every five people tell us that they are always on the lookout for discounts and rewards, so finding that additional way to save is really attractive to many Aussies right now."
Since the CommBank Rewards program launched, customers have received on average $13 in cashback per redeemed offer.
New research shows nearly six in ten people feel a cashback program from a bank is trustworthy because it's safe and secure.
CommBank Rewards enables customers to access great shopping offers from across more than 115 retailers, allowing them to save when they spend on everyday purchases like groceries, fuel, technology and food delivery services.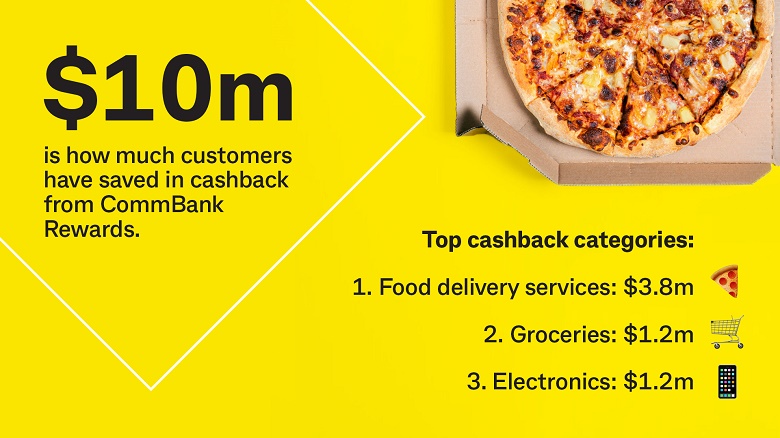 CommBank customers receive weekly offers in the CommBank app from merchants they may like, based on their spend history.
This supports new research which shows Australians like the personalised offers their bank can give them, based on what they buy and spend.
Ms Crous said CommBank Rewards also benefits the businesses involved in the cashback program.
"This wide-reaching cashback program also helps support businesses by encouraging more customers to shop and save. Shopping incentives can add a lot of value to businesses and that's especially important when many businesses are doing it tough right now."
The research highlights that Australians are 4x more likely to prefer cashback than frequent flyer points.
According to the insights more people prefer cashback (48 per cent) than loyalty points from stores (30 per cent) or frequent flyer points (12 per cent).
Spend and save insights from CommBank Rewards:
Average customer spend is $99 (per redeemed offer)
Average cashback is $13
The top merchants by cashback include: Menulog, Coles and Ampol
/Public Release. View in full
here
.