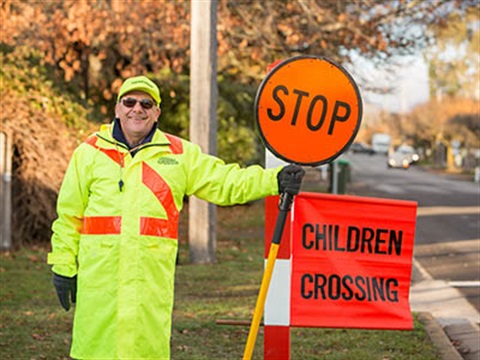 With the majority of Victoria's school children returning to school, after a disrupted couple of years, it is important that motorists, students and parents all get back in the habit of following some simple safety rules in the School Zones across the shire.
When driving through a school zone or dropping-off or picking-up your children:
reduce your speed to or below the signed speed limit,
take care, slow down and look out for unpredictable pedestrians and children and
importantly obey instructions from the supervisors operating the school crossings.
School crossing supervisors play an important and rewarding role in the community interacting with parents, family members, school staff, school children, pedestrians, drivers and members of the community, contributing to the safety around school zones and helping children get to and from school safely every day.
CEO Bernie O'Sullivan said Council currently manages 20 school crossings across the shire and employs more than 30 school crossing supervisors.
"With the school age population growing across the shire, Council would like to hear from responsible, enthusiastic, independent and community minded people of all ages, interested in becoming school crossing supervisors.
"If you are a positive and outgoing person, who can work flexible hours and short shifts, and would enjoy being the friendly face that people know and trust, I would encourage you to apply.
"Our supervisors are valued and dedicated community members and we appreciate their hard work and commitment to ensuring our children are safe. Several of our crossing supervisors have more than 20 years' service and recently one celebrated 40 years' service with us, with many of our crossing supervisors starting in casual relief roles before taking permanent assignments," he said.
Council's supervisors wear reflective fluorescent uniforms and generally work during peak periods from 8am to 9.30am and 3pm to 4pm, between the School Crossing Zone times.
Aspiring school crossing supervisors need to be punctual and comfortable in all traffic and weather conditions. They must hold a current drivers' licence and a Working with Children Check (or be able to obtain one) and will need to complete a pre-employment medical examination.
If you are interested in becoming a school crossing supervisor, apply today!
/Public Release. View in full
here
.