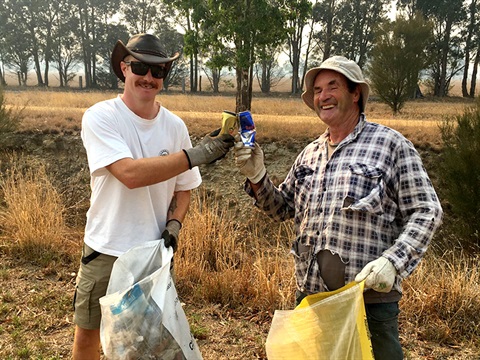 Part of the great Aussie character is the spirit to get things done. In our minds, that often turns into 'keep your head down and just get it done'. We are often reserved when telling the world about something we should be proud to share or sharing good deeds that you see others do that should be celebrated.
If the past challenging year of lockdowns, mask-wearing and social distancing has taught us anything, surely it's that sharing our lives and experiences with people feels good. Hearing stories of inspiration and the efforts by our frontline workers to keep us safe and healthy have been the highlight in a sometimes frustrating year.
So here's my challenge to you this week. Take the time to nominate someone for the 2022 Australia Day Awards for the efforts they've made to help others, something that has made a difference to people's lives in our valley.
It doesn't have to be big. I bet every person in our Shire witnessed at least one thing this year that a member of our community did out of the goodness of their heart to help someone else. It may have been the simple gesture of feeding a neighbour's dog while they were away, looking after someone's child while they ran an errand, mowing the neighbour's lawn who was unwell – a small kindness that was big to someone in need.
Whether it was the quiet achievers who do small but significant gestures that make a difference to another person's life or our amazing volunteers who give of their time and expertise all year round – our volunteer surf lifesavers, RFS and SES volunteers or coaches of our kids' sports teams – they all deserve our thanks and recognition.
It feels good to share our stories with someone. To feel their reaction and have that validation that you've made a difference. Maybe you were a frontline health worker in 2021, or one of our aged care workers who kept the spirits up of elderly residents during the extended lockdowns, or our retail workers who fronted up to keep essential supplies flowing – whatever you did to make a difference in 2021 be proud. You've demonstrated the real Australian spirit.
It's human nature at its best, and in tough times like the year we've had, it makes the difference to people's lives extra special. This is worth celebrating!
This week tell a friend about something you did this year, get their story in return. And then nominate them or yourself for an award. You're both local heroes and we want to celebrate you and hear your stories on Australia Day 2022.
Put your nominations in at Australia Day Awards
/Public Release. View in full
here
.