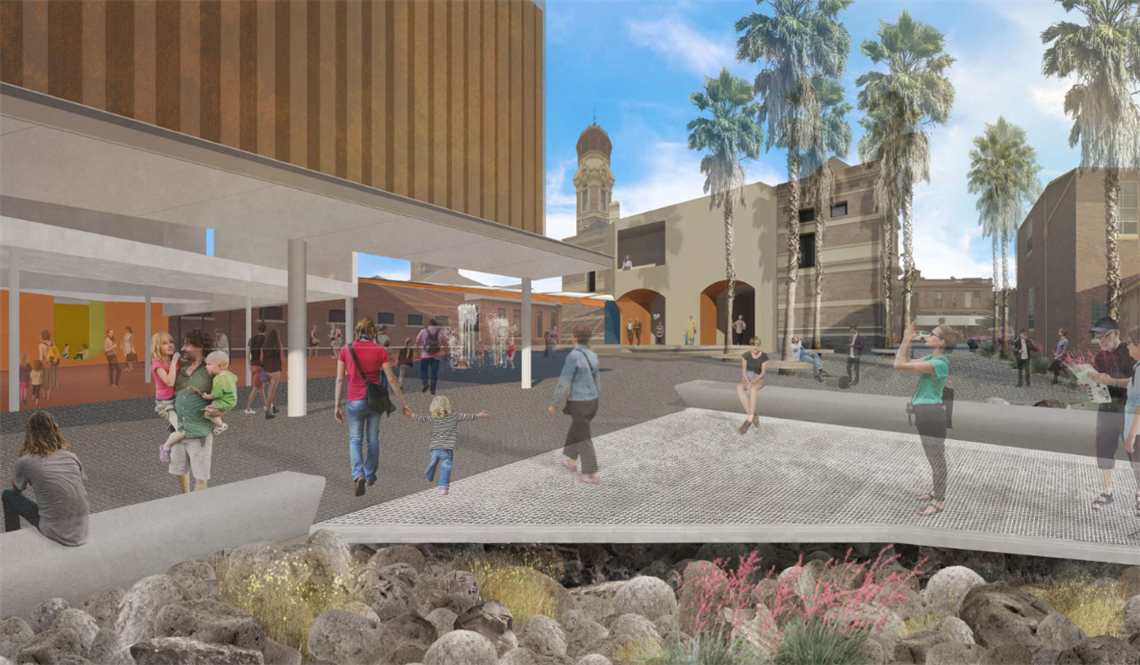 The city will soon have a new state of the art library and archives thanks to an injection of $8.7 million in funding from the Commonwealth Government.
Council's successful application for funding through the Government's Building Better Regions program was announced by Member for Parkes, Mark Coulton, this morning.
The funding will be used to commence Stage One of the Library and Cultural Precinct project, which will include construction a new main facility to house the library and archives, the refurbishment of the Town Hall Facade, a new carpark, landscaping, and more.
The new library and refurbished Facade will offer a range of upgrades on the current library, including dedicated spaces for community groups, a separate area for children's activities and families, public meeting rooms, study areas, an exhibition space, and more.
Meanwhile the new archive facility will feature specialised areas for preparation and preservation of archive material, a temperature-controlled storage space to protect the city's historical items, and an area dedicated to the preservation of the history and culture of the region's traditional owners.
Mayor Darriea Turley AM was elated with the announcement, saying the project would spark new life in the CBD and deliver a much-needed upgrade for library and archive services.
"This is a momentous occasion for Broken Hill, it's going to be an absolute game-changer in regard to the library and its services, and the preservation of our invaluable historical artefacts," said Mayor Turley.
"Libraries are no longer just about books, they're a central meeting point in cities communities right across Australia, and this project will bring us in line with other major centres that use their library as a social and cultural hub for their residents.
"It will give people another reason to come to the CBD, and stimulate millions for the local economy during the construction period through job creation and the local sourcing of materials and contractors.
"I commend the Government for their generous support of this worthwhile project, and welcome their confidence in the future of our great city."
Council's General Manager, Jay Nankivell, said the funding announcement would provide the foundation for Council to partner with other bodies to secure funding for Stage Two of the project, which would see the Argent Street and Blende Street Police buildings converted for commercial use.
Mr Nankivell said the community could potentially receive a new $20 million facility and surrounds at a minimum expense to ratepayers.
"The $6 million we set aside for this project was actually generated by fees associated with the W2BH pipeline construction, and that money combined with this Federal funding puts us in an incredibly strong position," said Mr Nankivell.
"We can now reopen talks with the BHP Billiton Foundation about the possibility of utilising their $5 million donation as part of this project, and also approach the NSW Government for funding with confidence that construction will go ahead.
"It's an incredibly exciting time, and I just want to thank all the past and present staff who have worked hard on this project, and the Mayor and Councillors for their tireless advocacy to gain Government support."
Mr Nankivell said Council should be in a position to tender for construction in a matter of weeks.
Click here for more details on the new Library and Cultural Hub project.
/Public Release. View in full
here
.