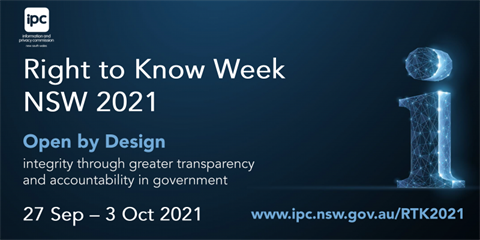 Federation Council is proud to support Right to Know Week (RTKW) NSW 2021 as an official RTKW Champion!
Right to Know Week NSW takes place from 27 September – 3 October this year, and aims to raise awareness of each individual's right of access to government information and promote open, transparent government.
The key object of the Government Information Public Access (GIPA) Act is to advance a system of responsible and representative government that is open, accountable, fair and effective. The GIPA Act provides citizens with the right to access most government information held by government agencies, state-owned corporations, local councils, ministers and their staff, and universities.
This year's theme is Open by Design: integrity through greater transparency and accountability in government.
Federation Council supports proactive and open access to information for NSW residents, and is always making changes to improve what is available without having to make a separate GIPA application to Council. However, as a word of caution, applications that are subject to the GIPA requirements, do take time, as Council is required to seek third party advice in some cases, and the approval of other non-Council parties where relevant, before any decision can be made to release or withhold information.
Whilst Federation Council endeavours to make as much information readily available as possible, it also has to balance this with other legislation to ensure it does not conflict with this, such as copyright and privacy matters which opens Council up to legal challenges.
/Public Release. View in full
here
.