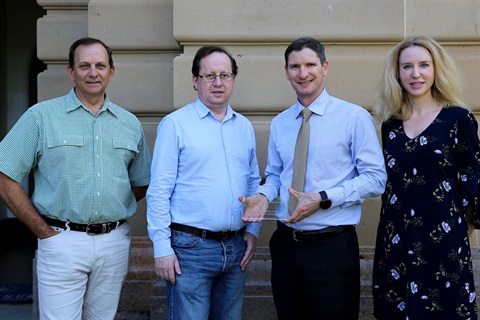 Our region's reputation as a hub for start-ups and entrepreneurs has grown even more after the Rockhampton Angel Investment Network was named the 'Most Active Regional Angel Group' at the Techboard Australian Angel Awards 2021 last month.
Angels invest in start-ups in their early stages to enable them to grow.
Rockhampton Region Mayor Tony Williams said he was thrilled to hear that the Rockhampton network – which operates out of Council's SmartHub – has been recognised for their achievements.
"The Rockhampton Angel Investment Network earned this national award by having the highest number of confirmed investments for a regional area," Mayor Williams said.
"This is a phenomenal achievement, and it's a credit to the work the Rockhampton Angels do to facilitate local investment for some of our state's most promising entrepreneurs.
"We're very proud that, through SmartHub, Council is able to help support our region's role in the start-up economy."
The investment group was founded in 2017 by local Chartered Accountant, Chris Harris, in collaboration with Rockhampton Regional Council's SmartHub and Simon Horne from state-wide association Angel Loop.
Chris Harris said the network complemented the great work SmartHub already does to guide and support entrepreneurs.
"Having a strong investment network right here means that once someone has done the hard work of developing their business to a point where it's market ready, they can look for the investment they need here, they don't need to go to Brisbane or Sydney to take it to the next level," said Mr Harris.
"It works the other way as well, we're able to bring passionate and talented founders from around the state to potential investors right here in Rockhampton.
"We host a pitch night once a month. If you're wondering what that's like – picture Shark Tank but without all the drama. There's no pressure to invest, and instead of competing with each other we all collaborate to understand the ins and outs of the business, and we all bring a different perspective to the table."
Angel Loop CEO Simon Horne said it was fantastic to see this award go to Rockhampton.
"It's a great thing to see such a strong network emerge in a regional area, and wonderful to see the Rockhampton Angels recognised," said Mr Horne.
"Once a month Angel Loop takes a group of vetted founders on the road to meet with investment networks like this one across the State.
"It's a great experience for founders, but potential investors really enjoy it as well. They get to hear some incredible ideas and solutions from industries they might never have thought about otherwise – from fashion and tourism to biotech and agribusiness."
Smart Hub Business Manager Elize Hattin said they were proud to facilitate the Rockhampton Angel Investment Network meetings each month.
"The start-up economy is growing faster than ever in Australia, and it's wonderful to see Rockhampton is really playing a role in that growth," Ms Hattin said.
"It's exciting to see these meetings take place – to see some really impressive entrepreneurs talk passionately about their ventures, and to see local investors get on board.
"There's a real sense of being part of something – that Rockhampton is a place that gives start-ups a chance to grow – and our region can only benefit from that."
/Public Release. View in full
here
.