The Tokyo Tech Academy of Energy and Informatics (ISE) held its kick-off ceremony and the 2nd InfoSyEnergy Workshop for Education and Research Collaboration on September 28, 2021. Both events were held online due to the continuing effects of COVID-19.
Tokyo Tech Academy of Energy and Informatics kick-off ceremony
A total of 108 participants from academia, government, and the business sector joined the morning kick-off ceremony to celebrate officially the opening of the Tokyo Tech Academy of Energy and Informatics (ISE), the home of the Multi-Scope Energy WISE Professionals doctoral degree program as designated by the Ministry of Education, Culture, Sports, Science and Technology (MEXT). After opening words from Program Supervisor Norihiro Nakai, dean of the School of Environment and Society, Tokyo Tech President Kazuya Masu also offered his greeting. "I am confident that the outstanding students who gather here at ISE will not only attain sought-after technical skills, but will also be able to read economic and social trends and pave the way towards a better future," Masu commented.
Participants at kick-off ceremony
Celebratory speeches were also given by five special guests. MEXT Deputy Director General Masanobu Morita introduced the background and outline of the government-backed Doctoral Program for World-leading Innovative & Smart Education (WISE) Program. Takao Shiraishi, councillor at the Ministry's Secretariat, Ministry of the Environment, spoke about the possibilities offered by hydrogen energy in the quest towards carbon neutrality, and expressed his high hopes for ISE. Yukari Hino, the director of the New Energy System Division and Hydrogen and Fuel Cell Strategy Office at the Agency for Natural Resources and Energy, Ministry of Economy, Trade and Industry, spoke about how hydrogen generated from renewable energy coupled with leading Japanese technology inspired the Olympic fire and torch at the Tokyo 2020 Olympic and Paralympic Games. Junichi Sato, a technology executive at Toshiba Energy Systems & Solutions Corporation and member of the InfoSyEnergy Research and Education Consortium, explained his company's efforts in launching their hydrogen energy business and striving towards zero emissions. Issui Ihara, executive officer at Deloitte Tohmatsu Consulting LLC and also a consortium member, spoke about the status quo, future design, and professional development regarding carbon dioxide reduction measures in Japan and the world.
The ceremony closed with an overview of the academy by Program Director Manabu Ihara, a professor at Tokyo Tech's School of Materials and Chemical Technology.
2nd InfoSyEnergy Workshop for Education and Research Collaboration
The 2nd InfoSyEnergy Workshop for Education and Research Collaboration took place in the afternoon, with 69 attendees joining from across the world. After an opening speech by Program Director Ihara, Dr. Laurent Antoni, Hydrogen and Fuel Cell Program manager at France's CEA-Liten, spoke about "Alternative fuel feeding strategy of PEM Fuel Cell Stack to improve performance and stability." He described the current status and strategy regarding hydrogen energy in Europe, and in relation to this, explained the role and strategy of CEA-Liten.
Next, Professor Michael G. Pollitt of Judge Business School, University of Cambridge lectured on "Electricity Markets with High Shares of Low Carbon Generation: theory, modelling and emerging international evidence." Pollitt spoke about renewable energy and the theory and future design of the European electricity market, and outlined the 2050 European model for achieving decarbonization and net-zero CO2 emissions.
Following this, 26 ISE students split into three groups and presented their current research to their international audience. Throughout the session, the students held lively discussions with their counterparts, examining various perspectives on energy science and engineering, and nuclear, biomedical, and chemical engineering.
Tokyo Tech Executive Vice President for Education Tetsuya Mizumoto concluded the event with brief words on the goal of ISE — to develop multi-scope professionals who have the drive and capabilities to lead future energy society.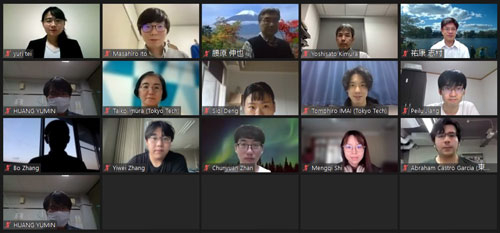 Tokyo Tech Academy of Energy and Informatics
The Tokyo Tech Academy of Energy and Informatics was established to develop multi-scope energy professionals who will help realize a sustainable, human-centric energy society free of usage constraints such as costs and CO2 emissions. The academy's five-year integrated doctoral program was selected by MEXT as a Doctoral Program for World-leading Innovation and Smart Education (WISE) in academic year 2020. Created in collaboration with universities, research institutes, and businesses at home and abroad, this is the third WISE program to emerge from Tokyo Tech. Program participants have the opportunity to grow into masters of multidisciplinary energy science who transform and design a new energy society using big data science and social design skills.
InfoSyEnergy Research and Education Consortium
The InfoSyEnergy Research and Education Consortium aims to design a sustainable energy society by combining AI and data science with various technologies, systems, and energy scenarios. It consists of dozens of collaborating universities, companies, public institutions, and local governments that work together to promote sustainability in the field of energy. This academia-industry collaboration platform also includes over 70 faculty members from across Tokyo Tech who strive to connect students, academics, and industry players around the world and train the next generation of scientists to lead a sustainable energy society of the future.
/Public Release. View in full
here
.