CBA's Chief Economist Stephen Halmarick confirms spending intentions largely tracked sideways in September, while expecting future improvements.
The latest data from the Commonwealth Bank Household Spending Intentions series shows spending patterns across key sectors of the economy largely tracked sideways in September, with CBA Chief Economist Stephen Halmarick saying some improvement could be expected over the remainder of 2020 and into 2021 given the extent of the fiscal and monetary policy support being applied to the economy.
Mr Halmarick said: "The Commonwealth Bank Household Spending Intentions series data to end September 2020 shows that spending intentions largely tracked sideways in September – as the impacts of the Victoria stage 4 shutdowns remain evident.
"Both home buying and motor vehicle spending intentions softened a little during September, while those for retail, travel, health & fitness, entertainment and education tracked sideways."
Spending intentions were mixed across different categories within the HSI measures (see table and graphs below) and Mr Halmarick says an uneven recovery is now underway in the economy.
"Notwithstanding the developments in September, spending intentions should be supported by the easing of COVID-19 restrictions in the months ahead and the significant fiscal policy stimulus detailed in the 2020/21 Commonwealth Budget that will support household income and employment, as well as business cash flow and investment".
Mr Halmarick forecasts that after contracting by an estimated -3.3 per cent in 2020, the Australian economy will grow by +2.5 per cent in 2021. He also says that it now looks like the unemployment rate has peaked at 7.5 per cent in July and while progress from here on the unemployment rate will be slow, this is a better outcome than previously expected.
The HSI series offers a forward-looking view by analysing actual customer behaviour from CBA's transactions data, along with household search activity from Google Trends. This combination adds to insights on prospective household spending trends in the Australian economy.
Read the latest Household Spending Intentions report.
Monthly Household Spending Intentions – September 2020
Each month, analysis by CBA's Global Economic and Markets Research team provides an early indication of spending trends across seven key household sectors in Australia. In addition to home buying, the series covers around 55 per cent of Australia's total consumer spend across; retail, travel, education, entertainment, motor vehicles, and health and fitness.
Retail Spending Intentions
Retail Spending Intentions largely tracked sideways in September, coming off the highs seen pre-Melbourne shut-down in July.
Retail Spending Intentions were, however, mixed across different categories during September. Gains were seen in spending in department stores, grocery stores, furniture & household equipment and appliances, paint & hardware stores, school and office supplies.
Weakness in September was most evident in spending intentions in duty free stores, men's clothing, shoe stores, beauty & barber shops.
Whilst accounting for a small share of overall spending, outsized gains continue to be seen in spending intentions on arts & crafts supplies, apps, electronic stores, hobby, toy & games stores and record stores.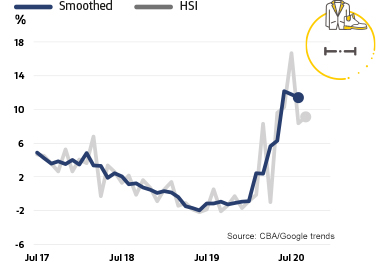 Travel Spending Intentions
After bouncing sharply off their lows of April in recent months, Travel Spending Intentions tracked sideways in September.
In the month, ongoing recovery was seen in visits to aquariums, camper & recreational vehicle dealers and trailer parks/camp grounds.
Weakness remains evident in key areas such as airlines, hotels, motels & resorts, motor home & recreational vehicle hire, sport & rec camps, cruise lines, timeshare, tourist attractions, travel agents, car rentals and bus lines.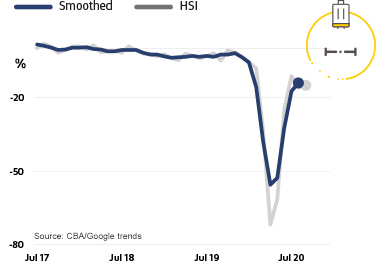 Home Buying Spending Intentions
Home Buying Spending intentions were marginally lower in September, continuing the small decline evident in August.
Although the number of home loan applications seen in September 2020 were higher than September last year, there has been a decrease on the month. In addition, Google searches declined marginally in September, as they had the previous month.
But the RBA's substantial easing of monetary policy has seen mortgage rates fall to multi-generational lows and we expect these low interest rates to continue to provide support to home buying. We expect house prices to show a peak-to-trough decline of -6%, but with substantial deviation expected across the capital cities.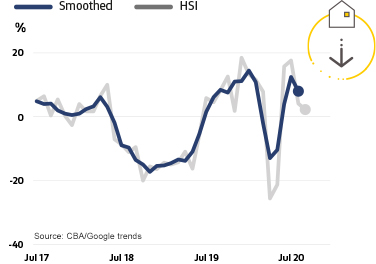 Education Spending Intentions
Education Spending Intentions moderated a little in September, with both the value of transactions and the number of Google searches down.
Over the year to September, both the number and value of total education spending is down, but with the number down more than the value.
Year to September, softness remains evident in both the number and value of transactions for spending on business & secretarial schools and trade & vocational schools. While the number of spending transactions on colleges and universities is down, the value of these transactions is up a little.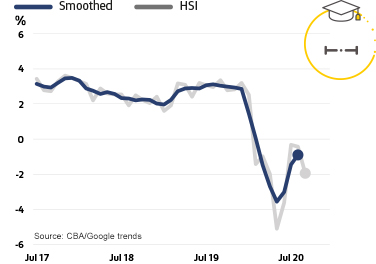 Entertainment Spending Intentions
Whilst well up from their lows of April, Entertainment Spending Intentions were also little changed in September.
Spending intentions were led lower in September by declines in drinking out, art galleries, dance halls, movie theatres and live performance theatres and ticket sales.
Some strength in September was seen in off-premise alcohol sales, fast food and confectionary sales, bowling alleys, pay-TV, digital books, movies, games & music and video games.
Motor Vehicles Spending Intentions
Motor Vehicle Spending intentions lost momentum again in September, coming back down off their COVID-19 highs seen in June.
While both the number of personal loan applications and value of motor vehicle transactions increased marginally in September, the number of Google searches was down on the month.
A less weak outlook for residential property prices should help the outlook for the motor vehicle sector. Generally spending on motor vehicles has the highest response to changes in property prices according to research done by the Reserve Bank of Australia.
Health & Fitness Spending Intentions
Health & Fitness Spending Intentions also tracked largely sideways in September and are now well off their highs seen early in the COVID-19 period.
Within the health and fitness sector, spending intentions are mixed across the different categories. Improvement can be seen in spending intentions on chiropractors, dentists, optometrists and podiatrists.
Large increases in spending intentions can also continue to be seen in bicycle shops – sales and service, golf courses and sporting goods stores.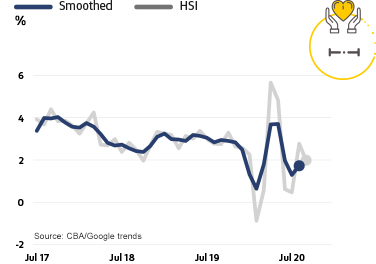 /Public Release. View in full
here
.