A minority federal government won't necessarily weaken parliament, says Associate Professor Ian Tregenza of Macquarie's School of Social Sciences.
During the 2022 election campaign Prime Minister Scott Morrison and senior members of his coalition have warned that a hung parliament would cause "instability and chaos". But how likely is this?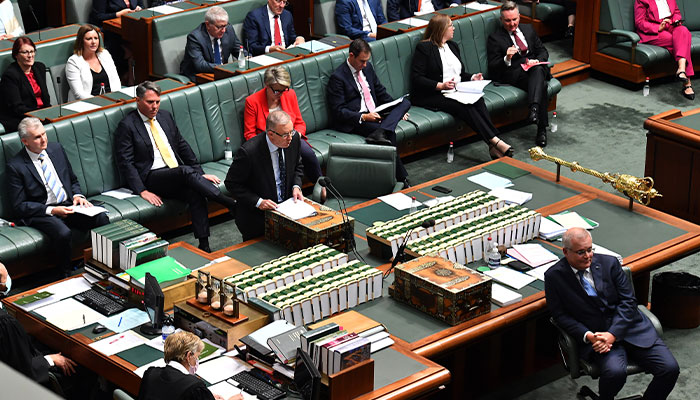 On the floor: Opposition Leader Anthony Albanese and Prime Minister Scott Morrison during Question Time in parliament.
A 'hung parliament' is generally used to describe the situation in two-party systems, such as the UK or Australia, where neither party has won a majority of seats in the lower house. No single party, therefore, has a mandate to form government. At a federal level, this has only happened twice in Australia since World War II.
The term is borrowed from the idea of a 'hung jury' in a trial, when a jury cannot reach a verdict. In that case, the judge would order a retrial. A hung parliament is different. If no party wins a majority, then each of the major parties must negotiate with the crossbench – made up of members who belong to minor parties and independents.
One of the parties needs a minimal guarantee from enough crossbenchers of "confidence and supply". This means that they promise not to cast a no-confidence vote in the government or block any legislation for vital economic bills. The first party to get enough crossbench support so that they control 76 of the total 151 seats in parliament has a mandate to form government.
More accountability
In practice, a hung parliament creates more work for the ruling party. Even when they have the crossbenchers' assurance, every time they want to propose a bill to the House, they must discuss it internally and then take these bills to the crossbenchers who may negotiate compromises and concessions in line with their interests.
This crossbench scrutiny can be more time-consuming and inefficient, as well as elevate the interests of the crossbench MPs, but it can also lead to more robust and accountable government and make the legislative process more rigorous.
The Senate already provides a review process for legislation but a hung parliament adds another layer of negotiation. This could be seen as enhancing democracy.
'Chaos and instability'
So what about the chaos and instability Morrison warns of? History shows us that a hung parliament is not necessarily a bad thing. It all depends on the circumstances.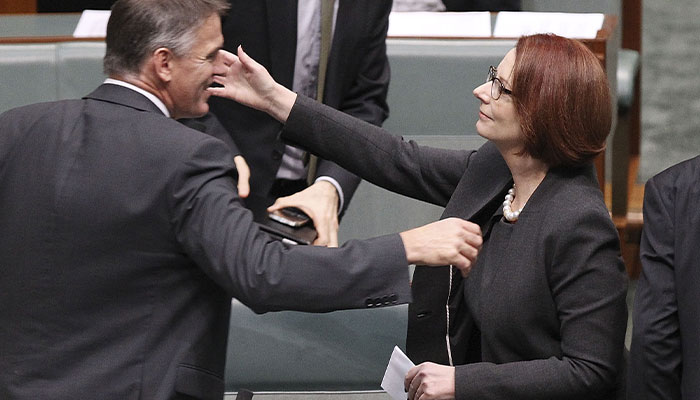 Minority support: Julia Gillard formed a government by gaining the support of four crossbenchers, including Rob Oakeshott (pictured).
Labor Prime Minister Julia Gillard led Australia's most recent minority government after the 2010 election resulted in a hung parliament.
Gillard formed government after two weeks of negotiations gained her Labor Party the support of four crossbench MPs: Adam Bandt of the Australian Greens and independents Andrew Wilkie, Rob Oakeshott and Tony Windsor.
Although there was leadership instability within the government, it served a full term and passed a record number of bills, second only to the Coalition government led by John Howard.
Since these places expect a minority government, there is generally no electoral rhetoric of impending chaos and confusion.
In 1940, Robert Menzies formed a coalition United Australia Party/Country Party government with the support of two independents. But the following year in October 1941, those same independents crossed the floor in a budget debate and the government fell. The Labor party, under leader John Curtin, then formed government with the independents' support, stayed their term and governed for a second term after a landslide election victory.
In the UK, the 2017 election resulted in a hung parliament when the Conservative Prime Minister, Theresa May, called a snap election to shore up support after the Brexit decision.
In fact, the election eroded her majority. May had to ask for the support of the Democratic Unionist Party of Northern Ireland to form a government, and she found it more difficult to pass the wide-reaching Brexit legislation she'd hoped for.
Minority government is the norm in jurisdictions with voting systems based on proportional representation, such as Tasmania, the ACT, Germany and New Zealand (since 1993). Since these places expect a minority government, there is generally no electoral rhetoric of impending chaos and confusion.
Who will side with whom?
During the current election campaign in Australia, both Morrison and Labor leader Anthony Albanese have ruled out making any pre-emptive post-election deals with Independents or the Greens. Albanese said he was focused on gaining an outright majority of Labor members elected.
Independents also declined to reveal if they would support Labor or Liberal in the event of a hung parliament. Of course, it's all just part of the campaign rhetoric on all sides, but once the ballots have been counted it could be a very different situation.
Assuming there is a hung parliament the major parties will have to sit down to negotiate.
What about the Governor-General?
The Australian Constitution does not specifically deal with the situation of a hung parliament; the matter is dealt with through unwritten conventions.
For example, there is no time limit for the parties to secure an agreement. This means the negotiation process could drag on for several weeks or more.
In the unusual event that neither party could reach agreement with the crossbenchers, the Governor General would urge the matter be resolved through a vote of confidence on the floor of the House.
Only if the House voted 'no confidence' in the prime minister but he/she refused to resign, would the Governor-General step in, dismiss him/her and call a new election. This has never happened yet in Australia.
Ian Tregenza is Associate Professor in the School of Social Sciences at Macquarie University.
/Public Release. View in full
here
.