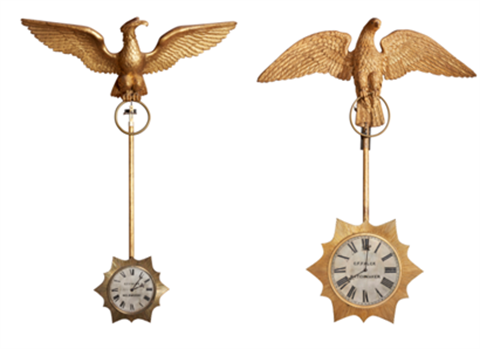 For the first time in half a century, the Falck Clocks, have returned to Beechworth to take up permanent residence in the Burke Museum.
Through a generous donation from the Copland Foundation and fundraising efforts of the Friends of the Burke Museum, the museum was able to raise $15,000 to purchase the clocks. Former owner Ken Hose auctioned the clocks, but when they didn't sell he made it clear that his wish was for them to return to Beechworth.
Mr Hose generously allowed the museum to purchase one of the clocks and he donated the other.
The clocks are particularly significant as they were made in Beechworth c.1860 and were part of a famous shop window display on Ford Street during the gold rush era.
Made by Charles Frederick Falck (1833 – 1908), a watch-maker from Korlin, Prussia who immigrated to Australia in 1854, each clock is almost two metres in height and features a hand carved gilt wood eagle with a wing span of one and a half metres perched above a pendulum rod that holds a silvered dial clock.
Falck was a master watch-maker, and made the first of these two large eagle clocks in 1855. The clock went on to win a gold medal for excellence in horology at the Exhibition in Melbourne in 1856.
The second was made in Beechworth around 1870.
The clocks were passed down through two generations of the Falck family before being purchased by clock enthusiast Ken Hose in 1970.
The clocks will become part of the permanent collection of the Burke Museum, and will be used to tell the story of Beechworth during the gold rush.
Collections Manager Ashleigh Giffney says, "These clocks are significant additions to the collection, as they provide a social, cultural and artistic link to life in Beechworth during the nineteenth century, which will become invaluable for future generations. They are expected to go on display sometime in the New Year."
Burke Museum Manager Cameron Auty says, "We're really grateful for the amazing community fundraising effort that allowed the museum to purchase the clocks. Without the hard work of the Friends of the Burke Museum, the generosity of the Copland Foundation and the Beechworth community we wouldn't have been able to secure these pieces of Beechworth's golden past."
Image courtesy of Leonard Joel.
/Public Release. View in full
here
.