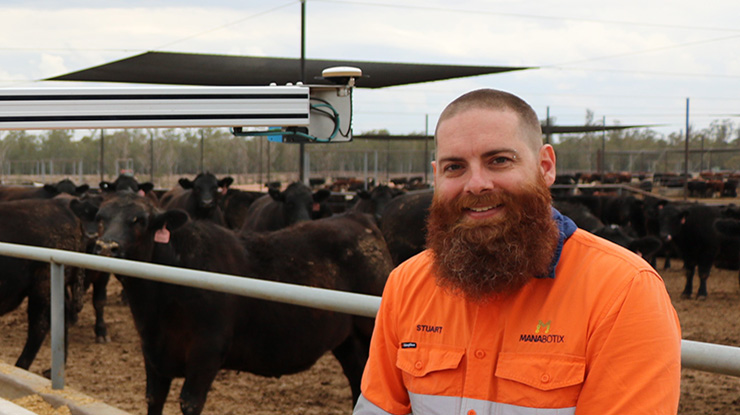 Dr Stuart McCarthy with the Manabotix Bunk Scanner
An evolution in feed bunk management is now available for feedlot operators, with a recent trial demonstrating that automation systems stack up against highly skilled bunk callers.
The trial assessed the productivity and health status of cattle using two automated bunk management methods compared to highly skilled bunk callers.
Using a bunk scanner commercialised by MLA and Manabotix, Bovine Dynamics managed the trial in a commercial feedlot on the Darling Downs in Queensland. Custom algorithms were implemented based on scanner information, feed consumption history, and weather data.
Over seven weeks, 5,500 cattle were inducted and randomised across three different bunk management treatments:
the conventional (control) method, reliant on bunk callers
a semi-automated method, where bunk scanning data was used by bunk callers to make feed allocation decisions
a fully automated method, combining bunk scanning and automated feed allocation.
The automated systems were shown to perform as well as conventional methods whilst offering greater accuracy in determining the amount of feed consumed and improving consistency in feed allocations.
Research Project Officer at Bovine Dynamics, Sam Platts, said the outcomes showed that both automated methods performed just as well as highly trained callers.
"What we concluded was that there was no difference between the semi- and fully-automated system compared to the highly trained bunk caller in achieving cattle daily gain, feed conversion ratio and exit weights" he said.
"Moreover, both treatments when compared to the control didn't have any negative impacts on animal health parameters, mortality or economically relevant carcase values."
This is good news for feedlot operators, offering a precise and reliable tool to enhance decision making and feed bunk management.
"Where the system is now, it will provide management and bunk callers with a really good decision support tool which eases the pressure and potentially reduces those areas where we see human errors," Sam said.
"By implementing this system into your feedlot, you'll have more accurate information on what your cattle have actually consumed on a daily basis, which will help you to mitigate the risks of performance losses that arise when cattle are underfed.
"Providing staff with better information allows them to better achieve the goals that management has set, keeping feed intake high and consistent."
Feedlot veterinary and nutrition consultant with Bovine Dynamics, Dr Matt George, said that in addition to the day-to-day benefits, the technology could provide more security to businesses.
"As businesses are getting bigger, feedlots could be delivering between 500 to 1,000 tonnes of feed per day. The bunk caller is making allocation decisions on feed rations worth hundreds of thousands of dollars each day."
"You're running on a dedicated platform, and with the system automatically adapting for variables such as seasonality and cattle inputs, it's adding an element of security to the operation," he said.
"In the long term, if you had a fully automated yard, you would see staff freed up for other important tasks, and hopefully with algorithm updates going forward, we would see improvements in gain or feed saved compared to human bunk callers."
The technology is now available for lot feeders. Although the trial was run on a single feedlot, results suggest that with small adjustments to the algorithm, it could be adapted for any environment, system or cattle type. Manabotix is currently integrating the technology with commonly used feedlot software programs. The Bunk Scanner system is already in use at several Darling Downs feedlots.
/Public Release. View in full
here
.