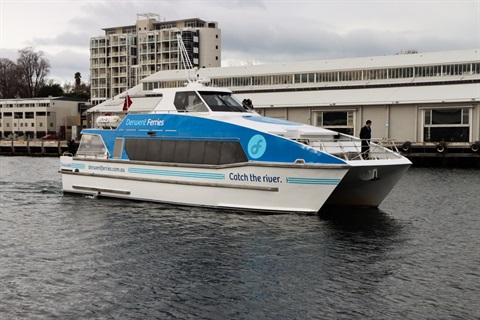 The City of Hobart and Clarence City Council Mayors have welcomed news that commuter ferry services across the River Derwent will continue beyond the initial 12-month trial period.
The ferry service, a key goal of the Hobart City Deal, has made a substantial impact to reducing traffic congestion over the Tasman Bridge, with two thirds of surveyed passengers saying they would have otherwise used their car to commute.
Lord Mayor Anna Reynolds said the success of the trial so far had demonstrated the huge potential ferries held as an affordable and practical public transport option for Greater Hobart.
"We're a city built around a beautiful river that can become the centre of our public transport network – both for residents and visitors," Cr Reynolds said.
"I'm pleased the ferry's success to date has been recognised by the Minister and I look forward to further discussions in the coming months.
"To meet our Hobart City Deal Transport Vision there needs to be continued investment in the ferry services".
Clarence City Council Mayor Alderman Doug Chipman said the Greater Hobart community had whole-heartedly embraced the ferry, which reinforced the need to expand transport options.
"With our existing network of tracks and trails, this service has provided a vital missing link for our commuter network, encouraging active transport and getting cars off the road," he said.
"The highly successful Ashes Test ferry services, which council was pleased to support, has shown how valuable the river can be in transporting large numbers of people to major events, and how those event based services can operate alongside commuter services.
"The Ashes presented us with a major logistical test for the service as a means of transporting large crowds over multiple days, and we're thrilled with how well the additional services were used across the three days of the Ashes Test Match."
Thousands of cricket fans made use of the service to get to the game, which resulted in reduced traffic and parking issues.
"We have a top-tier facility with Blundstone Arena, which deserves to be supported by convenient public transport options, making hosting large-scale events like this much more viable in the future," Mayor Chipman said.
The regular weekday commuter services that formed the original basis for the trial have been well-supported, as have additional summer Saturday services funded by the City of Hobart.
"More than 2100 people used the Saturday service in the first three weeks, demonstrating there's a strong interest in using the river as both a commuter and recreational mode of transport," Cr Reynolds said.
The City of Hobart is fully funding the summer Saturday ferry services as part of its COVID-19 business support package. It will continue until 4 February.
/Public Release. View in full
here
.