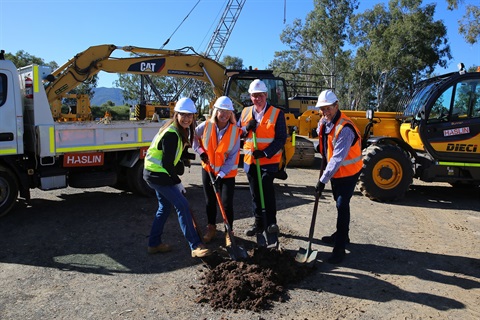 Foundations are being laid for the expansion of the North Rockhampton Sewage Treatment Plant (NRSTP), an essential project that will cater for our region's growth.
Earthworks and foundations for a new process train are made possible through $6.46 million in Works for Queensland funding.
Rockhampton Region Mayor Tony Williams said these works are part of a $75 million augmentation and renewal project that is critical for our community.
"This is truly generational infrastructure," Mayor Williams said.
"The NRSTP is already one of the most essential facilities in our region, providing sewage treatment for more than half our population each day.
"The expanded NRSTP will mean that 25,000 more people can call Rockhampton home. It's one of the most critical projects for our future.
"This is very expensive infrastructure, and we need as much help as we can from other levels of government to deliver it, however there aren't dedicated funding programs for this kind of work.
"That's one of the reasons the Works for Queensland program is so fantastic – it allows us to nominate the projects we know are most important for our community.
"This $6.46 million stage will help us set the foundations for a bigger facility and a bigger future."
Water and Environmental Sustainability Councillor Donna Kirkland said the timing of this project is critical.
"The current two process trains are almost 40 years old and are in need of extensive renewal works so that we can continue servicing our current population," Councillor Kirkland said.
"However, because our current infrastructure is approaching capacity, we're not able to undertake these works until we have this additional process train.
"This funding from the Works for Queensland program will allow us to complete the foundation for that augmentation. Once the new train is up and running we'll be able to renew our current infrastructure, ensuring improved quality of treated water being released to the Great Barrier Reef catchment.
"We'll also set our community up for decades of growth.
"The entire renewal and augmentation project will create 83 full time jobs per year and contribute $150.86M to the Queensland economy during construction alone.
"It's good for jobs, good for the reef, and good for the region."
Member for Rockhampton Barry O'Rourke said the Queensland Government was proud to support the expansion of the North Rockhampton Sewage Treatment Plant with $6.46 million in Works for Queensland funding.
"The Works for Queensland program supports regional councils with job-creating infrastructure projects," Mr O'Rourke said.
"This is an important first step for the sewage treatment works that will ensure the city keeps growing and supporting the infrastructure needs of existing and future communities.
"Through programs like this, Rockhampton Regional Council has been allocated $43,118,000 million to help deliver 42 community infrastructure projects.
"These projects have already supported or created 864 jobs, with more to come, which is a fantastic result for the local economy and for local families."
This project is proudly funded by the Queensland Government's Works for Queensland (W4Q) Program in association with Rockhampton Regional Council.
A contract has been awarded to Haslin Construction Pty Ltd. for the construction of the new process train and renewal of two existing process trains.
/Public Release. View in full
here
.