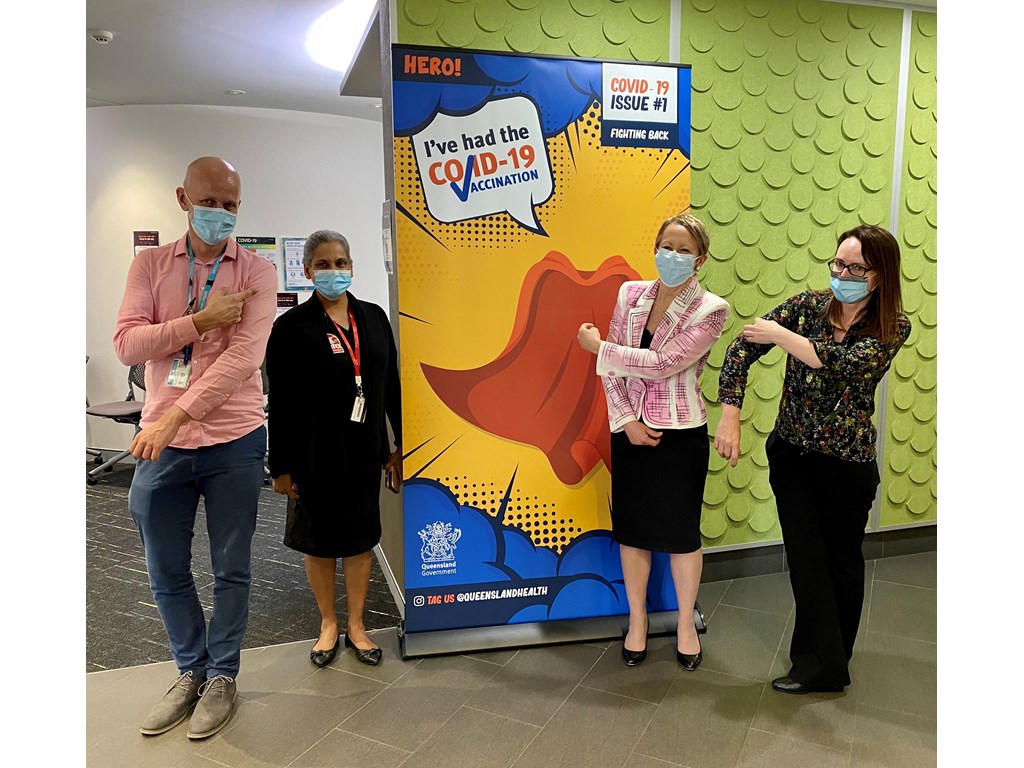 A mobile COVID-19 vaccine hub at the Loganlea TAFE campus is helping hundreds of migrant and refugee students get a COVID-19 jab.
Minister for Training and Skills Development Di Farmer visited the clinic today as it returns to the campus to deliver a second Pfizer dose to more than 300 students.
"It's the first vaccine hub to open as part of the joint venture between TAFE Queensland, Queensland Health and the Mater Refugee Health Service," Minister Farmer said.
"The service recognises the language barriers facing some students during the vaccine rollout and interpreters are on hand at the clinic to help the students understand the process, to answer any questions, and address their concerns.
"The clinic delivered 314 vaccinations over the five days from 30 August to 3 September, mainly to students in the Adult Migrant English Program (AMEP), who have limited English language skills.
"Prior to the clinic opening, the Mater Refugee Health Service delivered vaccine information sessions – supported by interpreters, community leaders, and Queensland Health clinicians – to Loganlea's AMEP students.
"Vaccination is our best chance of beating this pandemic, and targeted clinics such as this one at Loganlea TAFE campus help reach cohorts that might otherwise miss out."
Minister for Multicultural Affairs Leeanne Linard said that having the vaccination hub with interpreters has played an important part in spreading the message to vaccinate in different communities.
"The vaccination process can be overwhelming for these students, from finding reliable information in their language to registering online and booking an appointment," Minister Linard said.
"This hub helps break those barriers down by ensuring interpreters fluent in the student's first language can attend the clinic.
"And in Waterford and Logan, where there is one of the most linguistically-diverse communities in Queensland, this level of service is incredibly invaluable."
Minister Farmer also visited some of the training facilities at Loganlea TAFE.
"We know that if you get the right training, you're more likely to get the right job," Minister Farmer said.
"That's why investing in skills is at the centre of our $14.2 billion COVID-19 Economic Recovery Plan, with more than $1 billion for training and skills in this year's budget.
"We have invested more than $3.32 million to ensure the Loganlea TAFE campus has top class training facilities.
"More than $2.27 million has been spent to modernise and expand the veterinary laboratory to include facilities for x-ray, endoscopy and ultrasound and a hydro bath.
"This project is benefitting more than 180 students currently studying animal science qualifications including the Certificate IV in Veterinary Nursing.
"The campus has been developed as part of a health and training precinct with a $1 million upgrade to nursing practical spaces, including a mini hospital ward with 16 beds and observation rooms, and viewing laboratories.
In a key partnership, TAFE Queensland, Logan Hospital and Health Services Training are developing a wide range of occupational training to support the delivery of health care within the Logan area.
Under another agreement TAFE Queensland nursing students undertake vocational placements at Logan Hospital.
"In 2020-21 there are 435 students enrolled in the Diploma of Nursing at the Loganlea TAFE campus up from 304 the previous year," Minister Farmer said.
/Public Release. View in full
here
.