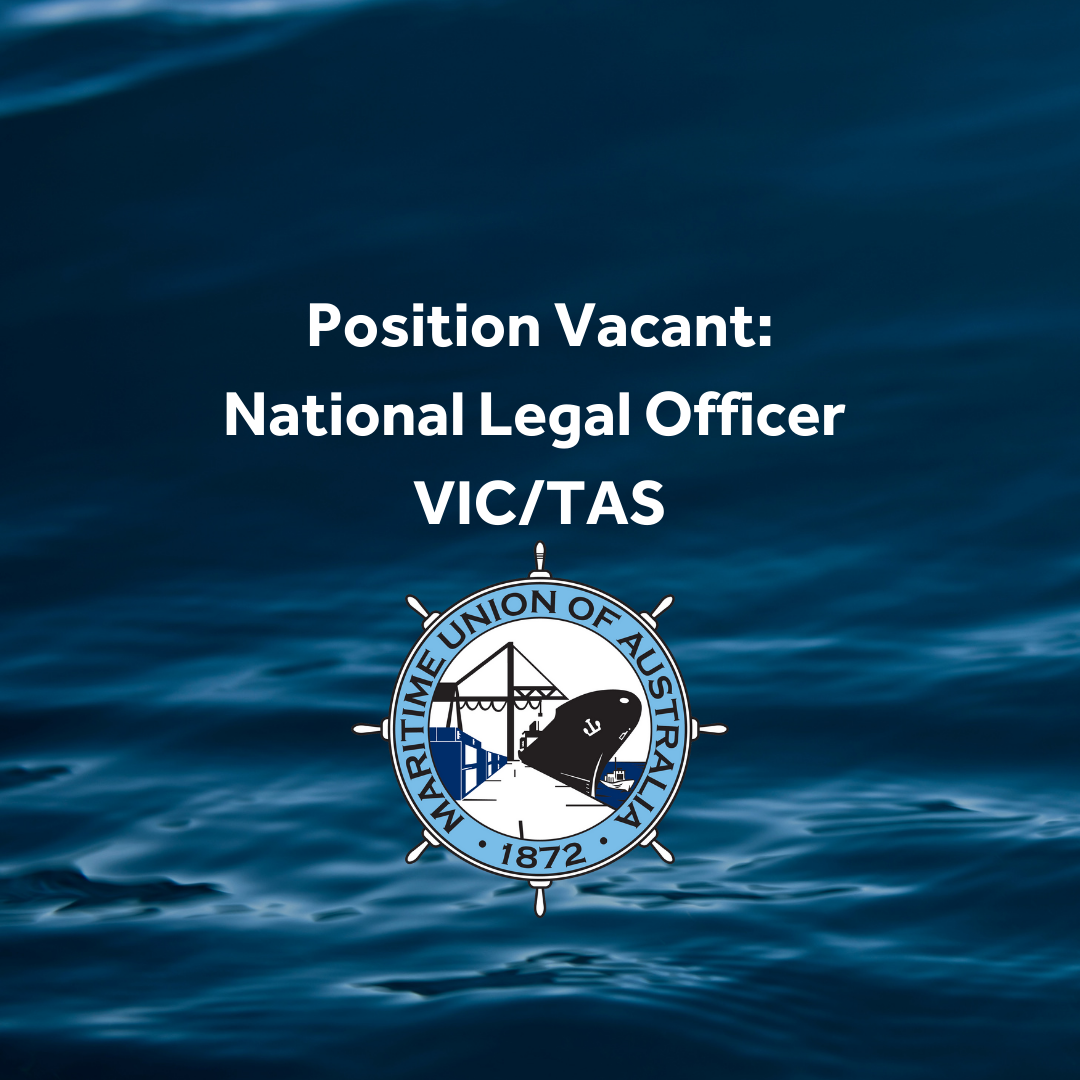 Position Vacant: National Legal Officer – VIC/TAS
• Work Type: Fulltime
• Location: Melbourne, VIC
The Maritime Union of Australia Division (MUA) of the Construction, Forestry, Maritime, Mining and Energy Union (CFMMEU) is seeking an experienced legal practitioner to provide legal and strategic industrial advice and representation to the Officials and Members of the MUA.
Located in the MUA's Victoria Branch, the position reports to the Division's National Legal Director and works closely in a collaborative manner with the Divisional National Legal Team as well as the MUA's Victoria and Tasmania Branches.
Candidates will have a breadth of experience in providing high level legal services and advice with a strong emphasis on industrial and employment law, possessing a sound understanding and strong working knowledge of the Fair Work Act 2009 (Cth) and associated legislation.
Additionally, candidates will be expected to be able to run their own matters in the Fair Work Commission including unfair dismissals, bargaining related applications and other industrial disputes. Candidates will ideally be able to demonstrate experience in taking cases to the Federal and Supreme Courts.
You will be able to multi-task, assess, prioritise, manage and deliver a busy legal case load as well as provide strategic legal and industrial advice that meets the objectives of the union's campaigns.
This is an exciting and highly sought-after position in one of Australia's oldest, most effective and influential trade unions that values collaboration and collectivism, works closely with its partners across the labour movement, takes it social responsibilities seriously, and seeks to influence and shape the future.
To be considered for this role, applicants must possess a degree in Law, have no less than 4 years' post admission or equivalent experience in similar roles, and hold or be eligible to hold a current practicing certificate. Applicants will also need to demonstrate a commitment to social justice issues and union values.
A competitive remuneration package, commensurate with experience, will be offered to the successful candidate.
How to apply for this job:
/Public Release. View in full
here
.