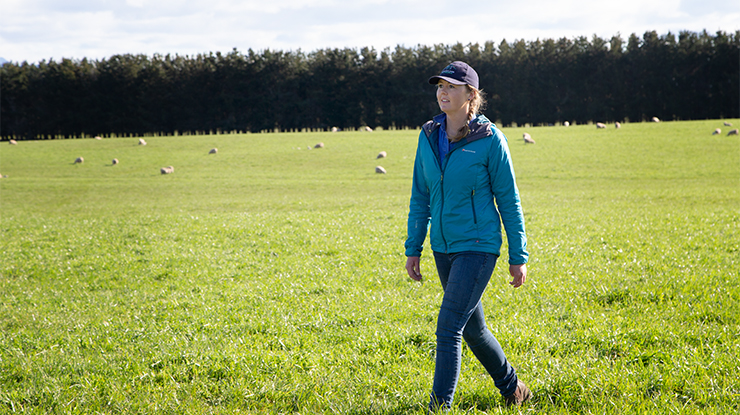 MLA‑supported Nuffield scholar Clare Peltzer investigated the need to develop a strategic framework to encourage young people to pursue a career in agriculture. Image: Alice Bennett
A young Tasmanian producer and teacher has used a global research trip to tackle the question of how to attract young people to agriculture.
Clare Peltzer, who received the 2019 MLA‑supported Nuffield Australia Farming Scholarship, said future‑proofing the rural workforce begins early and requires industry groups to work together.
Here, Clare explains how her Nuffield report highlights the need for industry bodies to align to ensure secondary school students are exposed to the vast array of career opportunities in agriculture.
I picked this topic because I'm lucky enough to wear two hats. I taught agriculture at the local secondary school and I'm the livestock manager on our family's sheep enterprise in Tasmania, turning-off 8,000 prime lambs a year.
As an educator and red meat producer, I realised we need to frequently expose students to high quality programs in agriculture.
It's important to attract youth to agriculture because they're an untapped source of energy and they bring fresh eyes and ideas to the industry.
Agriculture is facing natural resource constraints, market pressures and food supply targets, so the industry needs to fill our future workforce with people who have a wider skill set to meet these challenges.
Young people can be discouraged from pursuing a career in agriculture because the career prospects aren't well understood.
Many students believe agriculture is 'not for me' due to negative media coverage of droughts, floods and hardship. Perception is a powerful concept and currently repels some youth from pursuing a career in agriculture.
There's also not a clear line of communication to help young people learn about agriculture. Our agriculture industry is diverse with 15 industry bodies independently trying to attract students to their sector.
I believe the agricultural industry can attract youth by broadening the perception and taking a unified approach.
Young people need exposure to high quality interactions with agriculture strategically between 12–16 years old.
We need to let young people know agriculture is not 'just farming' as this is the most influential limiting factor to attracting them into the industry.
All career opportunities in agriculture should be recognised under the following umbrella terms – or the PERFECT acronym, developed by Dr Hlami Ngwenya from South Africa – to broaden the perception of agriculture.
P – Policies
E – Education and training
R – Research
F – Finance and farming
E – Entrepreneurship and extension and advisory services
C – Communication
T – Technologies and trade.
We also need to bridge the gap between producers and consumers by creating one independent and non‑political body, which is a centralised point for agriculture, responsible for talking to youth about all facets of the agricultural industry.
Three ways producers can attract youth to agriculture
Start the conversation with young people about agriculture, foster this relationship and help them make connections in the industry.
Farm open days create two‑way communication between families, so open the 'gates' to your community.
Embrace social media and spread awareness of our diverse agriculture industry. Show our future workforce what you do every day and inspire them to join us.
/Public Release. View in full
here
.