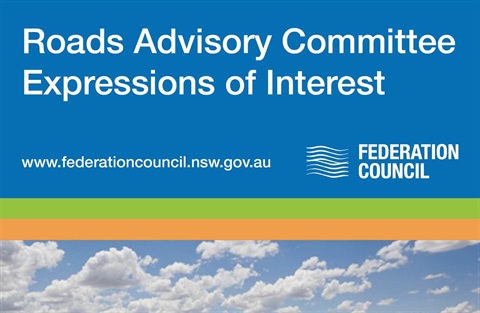 Federation Council is calling for expressions of interests from local residents in the Federation LGA to join Council's Roads Advisory Committee.
The Roads Advisory Committee has been established by Federation Council to provide information, comment, and feedback to Council in relation to the strategic management of Council's Road assets.
Federation Council Mayor, Cr Pat Bourke said Council was pleased to call for Roads Advisory Committee members and encouraged residents with an interest in Council's roads network to nominate.
"The poor condition of rural roads has been a big focus in recent engagement opportunities with our community and Council remains committed to working with our residents to achieve better outcomes for our road network," he said.
"This committee will provide great advice and input to Council on areas such as the roads hierarchy, funding priorities, and will allow the community to have greater visibility over road maintenance. Other business representatives such as trucking, school bus companies, and larger industries heavily reliant on the road network such as dairies and feedlots, will also have the opportunity to meet as opportunities present."
Initially the Roads Advisory Committee will focus on the following priority areas:
• Rural Roads;
• Roads to key industries;
• Transport Asset Management Plans;
• Road Hierarchy; and
• Service Levels.
The Committees objectives are to:
• Develop and review the principles underlying the provision of the road network within the Council area – Road Hierarchy network.
• Monitor and provide information/advice to Council in relation to the issues arising out Council's Road network.
• Review strategies and provide advice to Council and staff regarding the management, maintenance, service levels, renewal and upgrading of roads within the council area.
• Review and provide advice on the downgrading or closing of roads within the Council Area.
The committee shall meet quarterly on the third Wednesday of the month at a place and time to be decided by the committee. The committee may decide to hold additional meetings throughout the year as required.
/Public Release. View in full
here
.