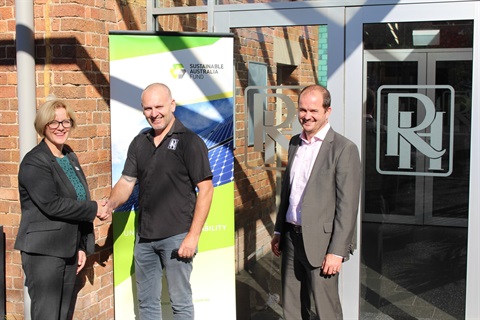 Baw Baw Shire Council has signed its first Environmental Upgrade Agreement (EUA) with The Warragul Railway Hotel to fund the installation of 50.2 kilowatt (kW) solar system, which will assist them in reducing their operating costs and improving their environmental performance.
By Council participating in the EUA program, it has allowed the owners of the Railway Hotel to access long-term, fixed interest Environmental Upgrade Finance (EUF), through the Sustainable Australia Fund.
EUF is a growing form of finance for businesses to fund sustainability improvements to commercial buildings as the finance is secured against the property, rather than the property owner. Repayments are then collected by Council for distribution to the finance provider, which makes the finance loan a lower risk. This can allow the finance provider to offer more attractive finance terms.
This solar installation project is valued at $55,000 and is estimated to result in a total annual saving of $3,700. The installation will also have an annual saving of 77 tonnes of C02, which is equivalent to taking 21 cars off the road each year!
EUAs can fund any upgrade to a building that improves energy, waste or water efficiency and/ or increases renewable energy. This can include solar panels, LED lighting or motion sensors, weather proofing/draught sealing, improvements to heaters, coolers and ventilation; refrigerator/chiller upgrades and waste management.
To learn more about EUAs go to Environmental Upgrade Agreement
As noted by Mayor Cr Mikaela Power
"Council is pleased to be able to offer Environmental Upgrade Agreements to our local businesses. These agreements can provide building owners with an incentive to improve their building's performance and reduce operational costs, with the added bonus of improved environmental outcomes."
As noted by Environmental Voice Advisory Committee Representative Cr Peter Kostos.
"We commend the owners of the Warragul Railway Hotel for their investment and commitment to renewable energy. It is great to see the investment will save them a lot of money every year, as well as have reduced greenhouse gas emissions."
As noted by owner of the Railway Hotel Justin Dash.
"I'm extremely grateful to be able to access finance through Council's Environmental Upgrade Agreement program. This investment will help us not only reduce our operating costs but help also the environment."
/Public Release. View in full
here
.