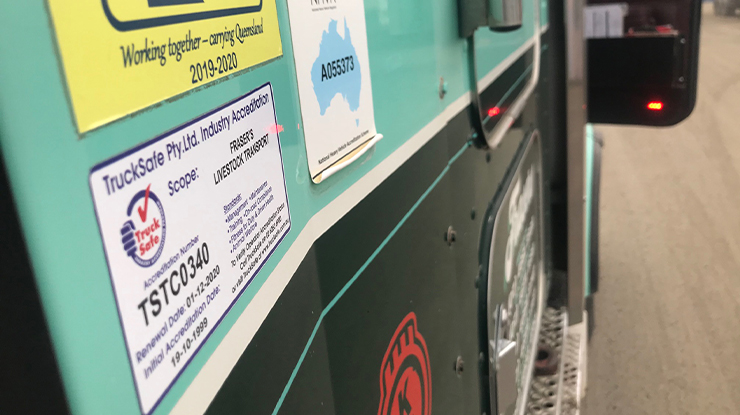 Look for the TruckSafe sticker on the side of your livestock carrier's truck
Loading livestock onto a truck shouldn't be the end of the line for best practice management.
Taking care of livestock during transit is important to maintain the quality of red meat, as optimum eating quality can be reduced by inappropriate handling in the two weeks before slaughter.
TruckSafe provides a best practice standard for trucking operators when transporting livestock.
It underpins industry programs such as Meat Standards Australia and Livestock Production Assurance to maintain supply chain integrity.
Currently, 210 transport companies with more than 15,000 trucks and trailers are accredited with TruckSafe.
TruckSafe's Safety, Health and Wellbeing Director Melissa Weller said a TruckSafe‑accredited livestock operator looks after livestock when they leave the farm gate, giving producers confidence their livestock are in the best hands during transit.
"TruckSafe was established 28 years ago to unite the transport industry and demonstrate it's serious about improving heavy vehicle safety," Melissa said.
TruckSafe is the only freight industry accreditation which addresses human safety factors and animal welfare. Its members must meet multiple standards:
business management practices
risk management
driver health
speed and fatigue management
mass and dimension including loading and load restraint
vehicle standards
animal welfare.
"TruckSafe members don't pick and choose what areas of accreditation to complete, they take on the whole system which uses a rigorous, independent audit approach," Melissa said.
"This gives producers peace of mind they're working with a professional operator focused on risk management, safety and animal welfare.
"There's no point having well‑prepared livestock ready to load if you're going to put them at risk during transit. Losing stock in transit affects producers' bottom line and can damage the entire industry's reputation."
Animal welfare
TruckSafe's animal welfare module focuses on the humane transportation of livestock.
"Drivers are trained in how to prevent disease, stress and contamination when moving livestock, as well as making sure the 'paddock‑to‑plate' traceability is supported during the journey, which ultimately protects the eating quality of the final product," Melissa said.
"Producers can be confident a TruckSafe operator has considered every risk possible. However, if something goes wrong, highly trained TruckSafe members can handle the incident and maintain animal welfare."
Are livestock fit for transport?
It's essential to manage livestock during transport to reduce stress and minimise risks to animal welfare.
Producers have an important part to play by understanding their roles and responsibilities and ensuring they comply with the Animal Welfare Standards and Guidelines for the land transport of livestock, as well as their relevant state or territory legislation.
Here's a handy checklist to prepare livestock for transport to ensure they're in good condition on arrival and reduce issues such as skin staining and bruising – which can reduce market compliance – and mortality.
Livestock transport checklist:
Check the holding/loading yards and loading ramp to ensure they're adequate
Use low‑stress handling techniques
Don't conduct highly stressful activities such as crutching, dipping and drenching just before loading
Don't transport sick, injured, or heavily pregnant animals
Yard livestock before loading, preferably overnight so they have time to settle
Segregate livestock appropriately for loading and load livestock to the approved density
Keep livestock off feed/water for 8–12 hours prior to transport if possible, but remember strict maximum times off water apply
Use a TruckSafe accredited livestock carrier
Move drought‑affected livestock early to ensure they're fit to load
Make sure all movement documents travelling with the livestock are completed
Transport company Frasers have been moving livestock across the eastern seaboard of Australia since 1944. Today, they operate 55 trucks and more than 150 trailers.
Here, Frasers Compliance Manager, Athol Carter, gives an insight into why Frasers joined the TruckSafe program more than 20 years ago and what it means to producers.
Q1. Why did Frasers become accredited with TruckSafe?
Australia's red meat industry leads the world in best practice animal welfare and it's essential the transport of live animals is also supplied under best practice standards.
We recognise Frasers need to be more than just transporters of animals. We're a visible link in the meat supply chain so we hold a lot of responsibility for the industry's reputation – animal welfare needs to be front of mind all day, every day.
Consumers want ethical and humane animal handling, environmental consciousness and a palatable paddock‑to‑plate story – the TruckSafe program ensures Frasers can meet those expectations.
Q2. How is TruckSafe part of your daily practices?
The TruckSafe program sets a benchmark, giving our company an incentive to strive for the highest standard in everything we do.
Our drivers can evaluate animal welfare risks and ensure no discomfort is caused to livestock.
They're competent in loading and unloading, assessing and observing livestock, recognising weak or diseased animals and can respond appropriately to fix a problem.
We document everything from contingency plans for delays such as extreme weather, biosecurity threats or a requirement to supply water to animals.
Q3. What are the risks if producers don't use a TruckSafe accredited transporter?
It's simple – if a truck isn't mechanically well‑maintained or a driver isn't fit for duty, a consignment may be put at risk.
Athol Carter
/Public Release. View in full
here
.