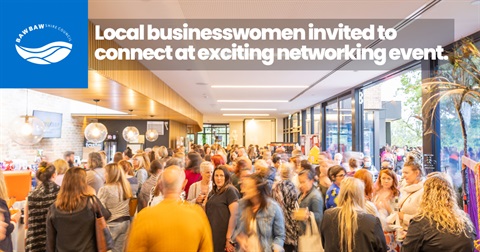 Baw Baw Shire Council will host a Women in Business event featuring Olivia White and a panel of outstanding local businesswomen for an evening full of inspiration and valuable advice to help local women meet their business goals.
Scheduled for Friday, 17 June from 6:00 pm to 9:00 pm in the West Gippsland Arts Centre's Fountain Room, this event is designed to help women at all stages of their business journey to connect, support each other and build relationships with like-minded peers.
In addition to the keynote address and panel discussion, attendees will be treated to delicious food, upbeat accoustic live performances by Emily Murdica and will walk away with a goody bag, including a copy of Soft Is The New Hard: How To Communicate Effectively Under Pressure by Baw Baw's own Leah Mether.
Tickets for this event are $30 and can be purchased through Eventbrite.
In line with Council's commitment towards gender equality, this event seeks to provide better access for women to opportunities to develop their career and promote networking among our community of passionate and local business leaders.
Get to know our keynote speaker – Olivia White
Olivia White is an entrepreneur, mother of two and public speaker who runs a successful parenting lifestyle and fashion blog and social media platforms under the name, House of White.
A Baw Baw local, Olivia's inquisitive, honest and daring nature has led her to experience and achieve incredible things in the business world, interacting with inspiring leaders and representing brands globally.
Olivia will speak of her journey and the amazing lessons she has learnt along the way and most importantly how success in business can be found in a variety of places.
Get to know our panel guests
Laura Eddington
With a deep passion for nature and sustainability and having studied ecology and seen the impacts of plastics on ecosystems, Laura set out to make her own eco-friendly food wraps.
In 2017, during her maternity leave with a newborn and toddler in tow, Laura launched her business, Little Bumble, using an all-natural formula that produces premium wraps while looking good at the same time.
See how this mother turned a problem into a successful Australian business and her tips for starting out as a business owner!
Hollie Johnson
Co-Founder of Deadly Wear, Hollie is a proud Gunaikurnai and Monero Ngarigo woman working on her grandparents' Country.
Hollie is a Photography Graduate of RMIT and has worked in the education sector within the Latrobe Valley area for the past 10 years. Hollie is passionate about incorporating the true history of this land and the immensity of the rich culture of First Nations people.
Hollie wants to do her part to create a better understanding for others and to showcase and support her culture.
Liz Clay
Liz is a proud organic vegetable and fruit farmer of more than 38 years, with a background in sustainable agriculture, industry development, education and natural resource management.
Liz has served on numerous industry, community and statutory authority boards, including spending eight years as Chair of the West Gippsland Catchment Management Authority and seven years on the World Board of International Federation of Organic Agriculture Movements.
Leanne Williams
Leanne is the CEO of Myli-My Community Library where she leads a transformation program across culture and technology, strengthening the community and ensuring the sustainability of the organisation.
Leanne is an incredible leader with a passion for growing and inspiring the next generation of leaders.
Quote attributable to Mayor Cr Michael Leaney
"As a Council, we are committed towards creating a thriving economic future for our region and its businesses. We aim to ensure women in our community have access to resources and connections they need to help them succeed at their business goals.
This event features an incredible line up of successful and inspirational local businesswomen, entertainment and atmosphere and is one not to be missed!"
Quote attributable to Deputy Mayor Annemarie McCabe
"Our recently adopted Economic Development and Visitor Economy Strategy clearly outlines Council's approach towards attracting and supporting businesses throughout Baw Baw and this event further promotes our commitment towards accessibility and opportunity for our female workforce.
Quote attributable to Cr Tricia Jones
"This event features a diverse group of business leaders in our community who each excel in their own fields. I hope our business community enjoys this amazing event and take home some valuable and helpful resources."
/Public Release. View in full
here
.