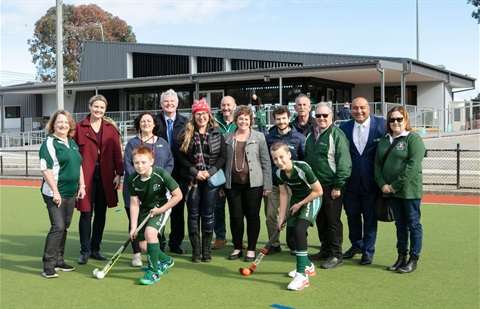 The Minister for Local Government and Suburban Development Shaun Leane visited Nillumbik on the weekend to officially open not one, but two new local sports and community facilities.
The Minister was joined by Yan Yean MP Danielle Green, Nillumbik Mayor Frances Eyre, Deputy Mayor Ben Ramcharan and Councillors Richard Stockman and Natalie Duffy for the openings of the upgraded Hurstbridge Community Multi-Use Facility and Greensborough Hockey Pavilion in separate events on Saturday morning.
The Hurstbridge Community Multi-Use Facility, home to the Hurstbridge Football and Netball Club and Hurstbridge Cricket Club, has undergone a $1.7 million extension and upgrade which was completed in February.
The $2.57 million Greensborough Hockey Club Pavilion in Plenty, home to the Greensborough Hockey Club, was completed in 2021, however COVID-19 restrictions had prevented opening celebrations until now.
Both facility upgrades include change rooms and amenities for both men and women, boys and girls, umpires and expanded social rooms.
Nillumbik Mayor Councillor Frances Eyre said it was an exciting day for local sporting associations and the broader Nillumbik community.
"I would like to thank the Minister and the Victorian Government for the generous funding support for these projects through the Growing Suburbs Fund in particular," Cr Eyre said.
"I would also like to thank Yan Yean MP Danielle Green for her tireless advocacy.
"This highlights why close collaboration with other levels of Government and our community groups and organisations is so important for in order for us to deliver state-of-the-art facilities for our community.
"Wonderful facilities like these are vital to encourage adults, young people and children back to sport and physical activity following the disruption of the past two years."
Bunjil Ward Councillor Karen Egan said the upgraded Hurstbridge facility was just the beginning of the revitalisation of the Graysharps Road Open Space Precinct.
"With the Diamond Creek Trail extension now finished and the implementation of the precinct plan to start soon, this is going to be a fabulous recreational area for locals and visitors alike," Cr Egan said.
Blue Lake Ward Councillor Richard Stockman said the new Greensborough Hockey Pavilion would provide the club the facilities befitting its position as one of leaders in the state.
"The new facility will boost the club in its efforts to grow participation and membership as well as enable it to host an increased amount of regional and state level competition," Cr Stockman said.
The Hurstbridge Community Multi-Use Facility was jointly funded by Council ($850,00) and the Victorian Government through the Growing Suburbs Fund ($705,000) and Sport and Recreation Victoria ($150,000).
The Greensborough Hockey Pavilion Redevelopment was funded with $2.14 million from the Victorian Government's Growing Suburbs Fund, $361,000 from Council and $90,000 from the Greensborough Hockey Club.
/Public Release. View in full
here
.